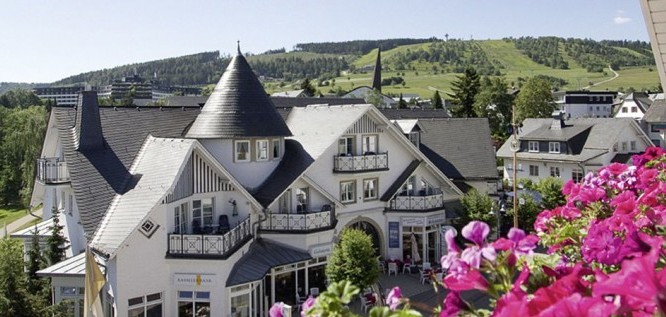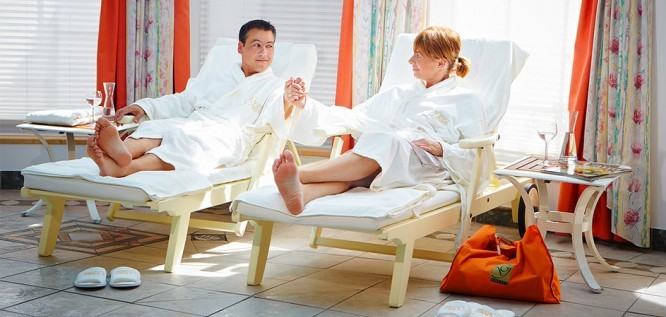 In the heart of Germany
Hesse | Sauerland | Willingen (Upland)
Offer description
E-Bike wellness days at the Göbel's Landhotel
E-Bike wellness days at the Göbel's Landhotel Enjoy an active time out in the beautiful Sauerland!
In the morning you will be strengthened with a rich breakfast, then you will explore the charming landscape of the Sauerland with one of our own E-Bikes. In the evening, in addition to dinner, you can also enjoy our spacious "Mountain Spa" area, including a relaxing massage during your stay.
This offer includes:
2 x overnight stays in a deluxe room from € 269,00 per person
2 x gourmet breakfast
2 x dinner as part of half board
1 x map material for your e-bike tour
1 x modern rental e-bike (Bergamont newest model)
1 x bike backpack, lock and helmet for the time of your stay
Location and Directions
Our wellness hotel is located
The wellness hotel is located in the centre of the hiking and winter sports resort Willingen in the North Hessian Upland.
Arrival with car
Direction north/west:
Highway A44 from Kassel or Dortmund until departure Anröchte/ Erwitte
Rüthen>Alme>Brilon>Willingen
Direction south starting from Würzburg:
A5 direction Kassel; Departure Homberg (Efze)
Wabern>Bad Wildungen > Sachsenhausen > Korbach > Willingen
Direction south starting from Frankfurt:
A5 direction Kassel
A 485 direction Marburg
Marburg- Frankenberg > Korbach > Willingen
Direction east:
Highway A4 direction Dresden und A7 direction Kassel; Departure Homberg (Efze)
Wabern > Bad Wildungen > Sachsenhausen > Korbach > Willingen
Arrival with train
Starting from south, east: ICE until Kassel Wilhelmshöhe – Warburg – Brilon Wald – Willingen
Starting from north: Münster – Schwerte – Brilon Wald – Willingen
Starting from west: Hagen – Brilon Wald - Willingen
Special features of the hotel