Active & fit

Active & fit in wellness hotels
Long hikes through nature, bike tours with impressive views or skiing in a winter wonderland are only few out of various ideas how to spend an active day during wellness vacations. And after being physically active it is twice as nice to return to the wellness hotel and to enjoy spa treatments. Whether you feel like visiting the sauna, hopping into the pool or enjoy a beauty treatment, one cannot deny it: Wellness and Fitness are a great combination.
Being physically active is an integral part of our overall wellbeing. Wellness hoteliers know about this fact and therefore offer various sports activities to allow their guests having the best possible recreating time. 
Hiking, walking, biking
All of our partner hotels are located close to nature and therefore are the ideal starting points for excursions to nature. Only few minutes away from the hotels, guests can enjoy wide views, stand in the middle of a clearing or dip their toes in the sand while looking at the sea.
Water sports in wellness hotels
Water plays a central role when it comes to wellness. Whether one talks about the pools in the spa areas, spa treatments or about wellness hotels directly located at the sea or lakes. Especially in summer waters attract people. Outside pools, ecological ponds and hot tubs serve as perfect refreshment on warm summer days. Besides relaxing in refreshing water, fitness courses like aqua gymnastics are the perfect opportunity to start the day right. But also bigger waters are perfect for many fun physical activities like kiting, surfing or sailing. And after a day out and about you for sure deserve a spa treatment.
Favourite hobbies: Golfing and horse riding
The summer is also the perfect opportunity to revive hobbies, which one usually doesn't have time for that often in everyday life. While golfing, you can get move, enjoy good company and explore beautiful nature. Many of the wellness hotels are located close to golfing courses, which offer the perfect opportunity to improve your handicap. But also horse lovers will enjoy their time at wellness hotels. Whether the hotels possess their own horse stables or whether they are located nearby: Horse excursions to the surrounding nature simply create good mood.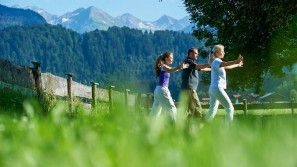 Relaxation through movement
Yoga, Qigong or TaiChi: Slow movements, which are conducted mindfully, assure relaxation and strengthening of the whole body. Learning relaxation methods in wellness hotels can help guests also to find relaxation breaks in everyday life. 
Winter sports in wellness hotels
Also for winter sports-lovers wellness hotels located in mountain regions offer a wide range of activities. From luging to skiing to snowboarding to winter hikes.
Our Active & fit-Tips for you
Fish makes you happy
Nutritionists have found that eating fish makes you happy. Omega 3 fatty acids contained in brook or regional lake fish such as char or brown trout have a positive effect on the brain and brighten the mood. These fatty acids are also found in vegetables. Enjoy your meal!
Every step counts
Not only exercising regularly contributes to a healthy lifestyle, moving a lot in your daily life does too. 6,000 steps daily has a lasting impact on your health and has a positive influence on it. That is quite a lot! Why not start with 3,000 steps daily and run your errands on foot?
Soulflow
This sport-mix combines elements of yoga, ballet and Qi Gong and forms them into a dance program. Not only is this a lot of fun, but it makes you more flexible and is a great way to free your mind too.
Even more about Active & fit