Thalasso

Exploring Thalasso treatments
North- and Baltic Sea:
Relaxing to the sound of the sea and enjoying wellness treatments: This is what Thalasso at the Baltic and at the North Sea is all about. A spa break getaway at the Baltic Sea is just perfect to forget your everyday stress by letting fresh wind blow through your hair.
Did you know? Already taking a walk at the sea has a positive effect on your health, as fine salt particles, which are in the air, are good for airways and bronchia. All of the Thalasso treatments are based on the reconstructive ingredients of the sea. Alga treatments for example have a regenerating effect due to their minerals and salts. This leads to a maximum regeneration and healing effect on your body.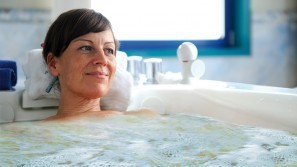 Experiencing Thalasso at the Baltic Sea
Enjoying the sun, the waves and long sandy beaches: that's what characterizes for many people the perfect holidays. To perfect your stay at the sea, what about enjoying Thalasso treatments in the 'Grand Hotel Binz', a 5 stars resort? Located right on the popular island of Rügen, guests cannot only enjoy a wide range of Thalasso treatments but also have the opportunity to discover the beautiful nature of the island by biking and hiking. Back at the hotel, a 750 square meters big spa lures. And for those, who still have energy left, there is wide range of fitness offers.
Vacations in the Thalasso centre of Germany
Located in Warnemünde at the North Sea, one can find the 'Hotel Neptun', which is the first Thalasso centre of Germany. Guests here spend a relaxing medical wellness trip and get pampered with professional Thalasso treatments. The hotel is based right next to the sea and offers an extensive active and fit program. Tip: An absolute must here is visiting the sky lounge with its breath taking view of the sea.
Our Thalasso-Tips for you
Being active gets your further!
Just got back from vacation and already in need of another one? This can be due to too much lazing around! Those who do sports, enjoy culture or explore the area during their holidays are more relaxed than those who just hang out at the pool.
A Recipe for Happiness
Simply take 1 banana, 1 small handful of salad lettuce, the leaves of kohlrabi and radish, a dash of lemon, 1 pinch of turmeric, the pulp of a vanilla pod and pour the whole thing with ½ L water and puree it. Et voilà, your energizing happy smoothie is ready to go.
Sun protection
In case you cannot get enough from the sun, you should eat a lot of red, orange and green vegetables and fruit. Spinach, peppers, tomatoes and watermelon can help prepare your skin for the effect UV rays have on it.