Family & Wellness
Wellness-timeout with your family.
Times are long gone when wellness and families suspended each other. While a few years ago only individuals, couples and friends went on wellness vacations, these days, more and more families discover the wellness for themselves.
In the German speaking part of Europe family wellness, as mentioned above, is booming. Even special spa treatments for children are no longer a novelty. Most of the times however, the focus lays on child-friendly care. This means in the various hotels one can find swimming pools, playgrounds and lots of fun outside activities.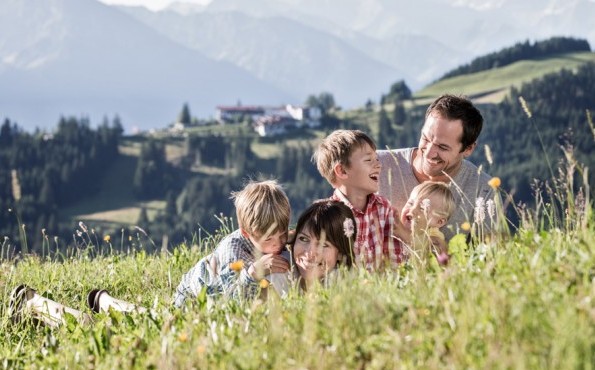 Feel good vacations for the whole family
A wellness hotel focussing especially on families is the 'Familienhotel Sonnenpark' in the Sauerland region. Here, families enjoy fun activities together while also having the possibility to take a break from the 'family time'. 3 different swimming pools for different age groups, an indoor water slide and a spa area just for the adults guarantee the perfect combination out of relaxation and fun.
Besides that, children have the opportunity to participate a care program. Next to tinker offers and games they can also try fun activities such as skiing and horse riding. For teenagers there are offers like fun-mountain biking, adventure golfing and karting. So while the children are out and about exploring new things, parents can take a well-deserved break in the spa area. For dinner, the whole family comes together again and each member has something exciting to share. Of course also here the preferences of each individual are respected. While adults enjoy delicious food from the wellness vital kitchen and tasty alcohol, children can enjoy a buffet full of child friendly food.
Recreation seekers will find a similar Eldorado for family in Gunzesried-Ofterschwang in the Allgäu. The Allgäuer Berghof offers a huge selection of leisure activities for children and adults in its secluded location at the top of the mountain. Children enjoy a huge selection of play opportunities on a family holiday. At the children's hotel, they can choose between several pools that invite them to splash around. The slides are particularly fun, and many children simply can't get enough of them on a family holiday. Outside the spa, the children's hotel impresses with its variety. From playgrounds to the petting zoo, from the multifunctional sports hall to the play rooms: Youngsters will find boundless fun at the Kinderhotel. The childcare services ensure that parents also have a little time to relax. 
The "MaPa Spa" wellness area is off-limits for children. Here, mum enjoys a relaxing massage while dad gets away from it all with a sauna session. 
And in the evening, even going to bed is fun at the family and wellness hotel Allgäuer Berghof: the individual rooms and suites are tailored to the needs of young guests and inspire with child-friendly furnishings. At the children's hotel in the mountains, there is something for everyone seeking relaxation - and an all-round successful wellness holiday with the family becomes an unforgettable memory.
Wellness vacations for youngsters and parents 
In the 'Nationalpark-Hotel Schliffkopf', children also can participate a big Easter egg search. Here, the spa also proposes treatments especially for children. The smallest ones can enjoy massages, which help them to relax and to calm down.
The 'Spa & Wellness Resort Romantischer Winkel' also offers kids wellness. A special highlight is the herbs massage, which strengthens the immune system. From 11am until 3pm, the sauna area belongs to the families where they can relax together. Just in case the children get bored, there is a playground and even an extra club called 'Young Beach Kids & Teen Club' to experience exciting adventures.
Further suggestions, which especially target the younger ones, you can find in the 'Jammertal Golf & Spa Resort' and the 'Hotel Sonnengut'. Here, one can find 'kids-clubs' and exciting holiday offers.
Our Family & Wellness-Tips for you
Healthy stomach, healthy head
Headaches? Food that keeps blood glucose level steady can have a positive influence on headaches. Healthy helpers are vegetables, salads, nuts, eggs, fish and meat.
Sweet seducer
Toiletries that smell like candy stimulate your appetite for it. British scientists discovered, that if you take a shower with a chocolaty shower gel, you will eat more chocolate throughout the day. So if you would like to watch your figure, better switch to neutral of flower scented lotions.
Gentle peeling
An oil-salt-peeling is helpful against small imperfections on the neckline. Mix a tablespoon of nut or body care oil with 1 teaspoon of table salt and massage it into the affected areas. Then rinse off with lukewarm water and the skin will glow.
Even more about Family & Wellness