Horse riding

Horse riding and wellness
Horse riding or wellness? There is no need to make a decision at all, because horseback riding during your spa break offers the perfect combination of sport, nature experiences and relaxation. At a fast gallop you train every muscle, to discover the woods and meadows you change to a leisurely stride and afterwards a massage provides regeneration.
Horse lovers with a longing for a wellness break simply choose a hotel with riding facilities. From a wellness hotel with a riding stable, to the option of taking your own horse with you on holiday, to riding facilities near the hotel, there are many different ways of combining riding and wellness.
Horse riding for the children, wellness for the parents
The Hotel Sonnenpark knows exactly how to teach children the right way to handle these noble animals. Because in the adventure land "Sunny" there is a riding hall and its own stables. In addition, a trained team is on hand to teach children from the age of three years to handle the animals properly. For parents who are enthusiastic about wellness and children who are enthusiastic about horses, this combination is perfect. And otherwise the whole family can enjoy a wellness holiday together in one of the four aqua landscapes, in the family sauna or with other play and fun activities in the Hotel Sonnenpark.
Riding and Wellness holiday for families
The children want a riding holiday, the parents rather need wellness? Both are possible at the family and wellness hotel Allgäuer Berghof. Attached to the hotel is a riding farm with ponies and horses that make the hearts of many riding fans beat faster. Whether it's a round of stroking, pony fun for small children or real riding lessons: in this wellness hotel everyone gets their money's worth. Both young and old animal lovers will also find various other animals from rabbits to donkeys and goats.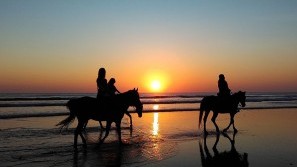 Horse riding during your spa break: horse rides in picturesque surroundings
The family-run Hotel Heinz is located in the Westerwald between Cologne and Frankfurt. In addition to great wellness offers, guests have the possibility to accommodate their own horse in the attractive stables. The picturesque surroundings with meadows and woods invite you to go horseback riding in new landscapes. But also guests without their own horse have the possibility to engage in equestrian sports during their holidays thanks to a nearby riding stable. You can choose between dressage, show jumping and horseback riding - for young and old. And if that's not enough, the hotel's wide range of activity programs offer a wide variety of sporting activities.
Wellness hotel with horse riding: Carriage ride or riding yourself?
Great opportunities for riding are offered by the nearby riding stables around the Hotel Sonnengut in Lower Bavaria. Here, children and adults can choose from a wide range of great offers all around the noble animals - whether you want to ride yourself or take a carriage ride, whether you want to do individual lessons or a riding course, there is something for beginners and advanced riders alike. Apart from riding, the surrounding area is wonderful for hiking or cycling, but also guests who love golf have the opportunity to live out their beloved hobby during their spa break.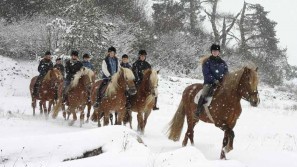 Hotel with riding facilities: Rides to beautiful places
The riding paths in the Bavarian Forest lead through meadows, forests and fields near the Sport-& Ferienhotel Riedlberg. The low mountain range landscape can be optimally explored from the saddle. Guided rides to the most beautiful places are offered by nearby riding stables. If you need a balancing relaxation after such a ride through nature, you can relax in the sauna area of the wellness hotel. So, into the stirrup and out into nature.
High on horseback in the Sauerland
In the southern Sauerland, in the midst of forests, mountains and reservoir landscapes, lies the Freund - Das Hotel und Spa-Resort, which offers an all-round package for horse lovers.
No matter whether you are a complete beginner or if you own your own horse, there is something for everyone. Beginners can take lessons on the animals of the in-house Finn Horse Stud, while horse owners can accommodate their horses in the spacious guest horse boxes. While your animal is relaxing in the stable after an exciting ride, you can enjoy a relaxing massage in the hotel's wellness area.
Our Horse riding-Tips for you
No more wrinkles
The skin around neck and décolleté is particularly thin and tends to get wrinkles first. The sesame oil, Ayurveda uses to tighten the skin, helps with that. Warm up 50 ml sesame oil, add 2 tablespoons of honey and rub the mixture into your skin. Then rinse off the oil and honey with lukewarm water after 20-40 minutes.
Shared happiness
Are you in a bad mood? Then go and make other people happy! No matter if you do so by spending money to charity, writing your grandparents a letter or carry the shopping bags for your elderly neighbor: You will quickly realize that doing something good for somebody else will make you happy as well.
(Even) more likable with sports
Whether it be during a job interview or on a date: If you mention that you regularly engage in sporting activities, people will immediately associate that with positive characteristics such as being confident, full of energy and responsible.
Even more about Horse riding