Cross-country & Alpine Skiing
Ski holidays and wellness - Cross country & alpine skiing
Skiing holidays and a spa break go together perfectly. Regardless of how you prefer to be out in the snow, whether you are speeding down the slopes or exploring the winter landscape on cross-country skis: after exercise in the fresh air, it is particularly nice to relax in the warm wellness area and pamper your stressed limbs with a massage. Skiing holidays and wellness are a perfect combination, which can be experienced in almost all of the Wellness-Hotels & Resorts.
Where is the best place to spend a skiing holiday?
There are numerous attractive ski resorts in Germany, Austria, South Tyrol, the Czech Republic and neighboring countries. For a skiing holiday in Germany, popular skiing regions include the Allgäu, the Bavarian Forest, the Sauerland, the Harz and the Black Forest. 
In all these ski regions there are first-class wellness hotels - some of them directly on the slopes. They offer the best starting point for combining skiing holidays and wellness. 
Skiing holidays directly on the slopes
For those who would like to switch between winter sports and wellness particularly quickly, a skiing holiday directly on the slopes is a good choice. You can ski almost all the way to the spa area at the Sport- und Ferienhotel Riedlberg. The wellness hotel even has its own ski lift, which is only 50 meters behind the house.
The Allgäuer Berghof family and wellness hotel is also located almost directly on the slopes. The hotel is located in the World Cup ski area with 18 kilometres of slopes. Directly in front of the front door is a particularly child-friendly area, where even the smallest skiers will get their money's worth.
Skiing holiday in the wellness hotel
A skiing holiday in a wellness hotel promises just the right mix of activity and relaxation. If you need action, you will find suitable slopes to make rapid descents on alpine skis. A network of long cross-country ski trails offers ideal conditions for cross-country skiing. This is also the right place for those who want to enjoy the peace and quiet of the winter landscape while skiing away from the hotspots. Relaxing in warm water, the sauna or a spa treatment is just as nice afterwards. 
When to go on a skiing holiday?
You can always go on a skiing holiday when there is snow. On the mountains in Germany, Austria, South Tyrol, the Czech Republic and neighbouring countries, this is usually the case in winter from Christmas and then over New Year's Eve until well into the new year. If there is too little snowfall, many slopes are artificially snowed in, so skiing is definitely possible. If you are drawn to a glacier ski area, you can enjoy a skiing holiday there almost all year round.
Particularly popular times for a skiing holiday are 
- Skiing holiday at Christmas
- Skiing holiday to Silveser
- Skiing holidays over carnival
- Skiing holiday at Easter
If you are on holiday during the ski season and still looking for peace and relaxation, a wellness hotel is the right place for you. For even less hustle and bustle, it is best to book your skiing holiday outside the holiday season and/or in a wellness hotel in one of the somewhat less popular skiing areas.
Where to go on a skiing holiday with children? Winter fun for young and old
Whether snowshoeing, alpine skiing, tobogganing or cross-country skiing: In the family hotel Sonnenpark in Willingen every member of the family gets his money's worth. The wellness hotel is located in an extensive winter sports area with 6,000 metres of slopes. Slopes of up to two kilometres in length, a cable car, eleven lifts and several snow-making facilities guarantee great snow sports fun for the whole family. In addition, a well-maintained network of free cross-country ski trails and several toboggan runs with conveyor belts invite you to enjoy carefree snow fun. The Sonnenpark's own ski bus takes guests to the slopes and back to the hotel, where adults can enjoy the spa area and children can continue to romp in the indoor adventure world.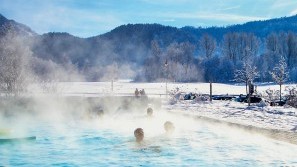 Wellness & cross-country skiing in Allgäu
The wellness hotel Sommer in the Allgäu promises unlimited cross-country skiing opportunities. Cross-country skiing enthusiasts can let off steam on over 230 km of cross-country ski trails and beginners can discover their love for this snow experience. A cross-country skiing course supports them in this. In addition, the wellness hotel provides an all-round carefree package with a daily energy package, a regional cross-country skiing map and the laundry & drying service for sportswear.
The Hotel Sommer is also the right place for those looking for a special sporting challenge. The enticing offer of the wellness hotel: first give all you've got at the Allgäu "Skimo Challenge" and then regenerate with a sports massage. The winter sports competition is about running a sprint, a marathon and a five-and-a-half kilometre long track in the winter mountain landscape in three partial events on skis. Afterwards, the athletes have more than earned the massage in the wellness hotel.
Our Crosscountry & Alpine Skiing-Tips for you
Hiking your way to happiness
According to a study issued by the Salzburg university hospital, hiking regularly increases your self-esteem and sleep quality and decreases the change of getting a depression, feeling hopeless or anxious. So, put on your hiking shoes and go out into the nature!
(Even) more likable with sports
Whether it be during a job interview or on a date: If you mention that you regularly engage in sporting activities, people will immediately associate that with positive characteristics such as being confident, full of energy and responsible.
Moving despite the cold
You can stimulate your blood circulation as easy as stretching your body in the morning. Nonetheless you should not abandon sport all together during winter. Nordic walking or swimming in a heated pool – these activities ensure you are always full of energy. Even in winter!
Even more about Crosscountry & Alpine Skiing