Wellnesshotel Usedom Island

Wellness vacation Usedom Island: Experience the relaxing Baltic Sea climate. A wellness vacation on the island of Usedom promises all relaxation seekers on the beautiful Germany´s Baltic Sea pure relaxation and sun. 40 km of the finest sandy beach, a sea spa next to the other and an original hinterland make a spa vacation on the 455 square kilometer island of Usedom an unforgettable experience.
Usedom Island: A great destination, but where to go?
If you want to spend your short break with accommodation on Usedom, Strandhotel Ostseeblick is the right place for you. The range of fitness programs ranges from climate changes, breathing gymnastics or QiGong to Beach Nordic Walking.
But wellness vacationers, who prefer to take it easy, will of course get their money's worth. The spa area with a view of the Baltic Sea, a panoramic pool with light and sound, as well as a wide range of beauty treatments and massages impresses.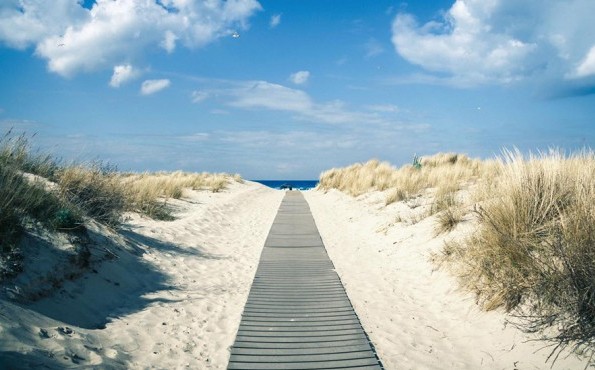 In addition, the spa hotel specializes in the active ingredients of the sea and the natural wealth of the region: Heringsdorf brine, sea buckthorn, honey and healing chalk allow guests to experience exceptional and beneficial treatments that are also designed to maximize results.
In the evening, visitors come to the hotel's restaurant "Bernstein", which spoils its guests with culinary and regional delicacies. A weekend on the beautiful island of Usedom is a great experience.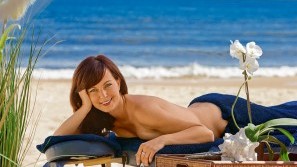 Wellness vacation on Usedom - the most beautiful leisure activities
A wellness vacation on Usedom can be wonderfully combined with bicycle tours. As strung on a string of pearls, guests on Usedom will find the seaside resort of Ahlbeck, the seaside resort of Heringsdorf and the seaside resort of Bansin. The places with their beautiful piers are just waiting to be discovered. All 3 imperial baths are on a promenade, which leads past many lovingly restored villas, of course, also within walking distance.
Or how about a visit to the Sand Sculpture Exhibition? Here one can marvel at unusual sculptures every year (usually between April and the end of October).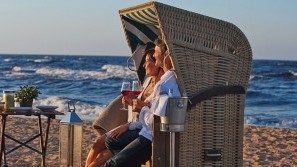 A very special highlight of the spa holiday on the Baltic Sea is also the diving gondola Zinnowitz. As the only diving gondola of its kind, it brings guests four and a half meters under water. So guests can get an idea of the exciting underwater life in the Baltic Sea. Afterwards an interesting film about the diversity of the Baltic Sea will be shown.
To become active at island of Usedom
is ideal for all kinds of sports activities. So you can use the Baltic Sea, for example:
surf (kite)
sailing
Boating or around
Stand-up paddling to try
But even on land leisure can be great with sports. Of course you can also ride, hike and of course play golf.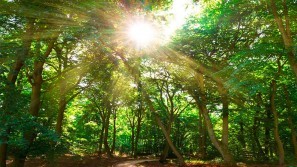 Forest bathing: explore the culture and healing forest on Usedom
On Usedom you will find Europe's first health resort and spa, which opened in 2016 and spans 187 hectares. Background: Medicinal forests have been introduced for a therapeutic treatment, because they are said to have a healing effect thanks to their stimulating climate. Here you can relax on poetry trails in the midst of old beech and spruce trees or do some sports on the active course. If you want to try the forest bathing, this is the place for you. Forest bathing under instruction is possible with the trained staff of Strandhotel Ostseeblick.
Recharge your batteries for everyday life
Due to its maritime location and relaxing climate, the island of Usedom is a great place to escape the stress of everyday life for a while. Anyone who spends a holiday here will find no matter what the season, a wonderful environment that invites you to linger and come down. Visitors relax on the beach and consciously take a break to once again listen attentively to the needs of their soul.