Healthy sleep

Healthy sleep - wake up refreshed
Rested, full of energy and with new strength ...
This is how we feel after a restful night. Because "sleep is to a man what winding up is to a clock", as the philosopher Arthur Schopenhauer puts it in a nutshell.
However, more and more people have problems falling asleep
or finding restful sleep. The causes are social phenomena such as an accelerated working world, increasing burdens due to stress and a lack of work-life balance. Even on holiday, it is then often not possible to find the desired rest. That is why many Wellness-Hotels & Resorts place special emphasis on a healthy sleeping environment for their guests.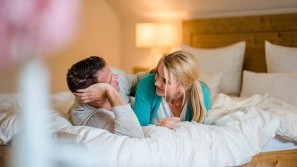 At the Parkhotel am Soier See in Upper Bavaria, guests can have a sleep diagnosis carried out in their hotel room with the help of a small device and have their sleep profile evaluated. For this purpose, a sleep analyser records the depth of sleep and thus allows conclusions to be drawn about the quality of sleep and possible sleep disorders.
At home, for example, you can take a gentle evening stroll to
find peace and quiet after a hectic day. These and other relaxing evening rituals have a sleep-promoting effect. It also helps to keep a close eye on what eating habits have consequences for your night's rest. Too much alcohol, heavy, sour or spicy food can lead to a restless night. And last but not least, the choice of a suitable mattress and appropriate bedding is also important.
Sleeping well in the wellness hotel
That is why many wellness hotels offer a "pillow menu" so that guests can choose the pillow that is most comfortable for them. At the Jammertal Golf & Spa Resort in southern Münsterland, the electricity circuit in the room can be completely switched off for a healthy night's sleep.
Our Healthy sleep-Tips for you
Don't worry, be happy!
Your last vacation seems ages ago? You can program your brain into thinking you are on that sunny island again: Apply some nurturing scented oil with orange and jasmin on your body, inhale deeply and let your mind wander off to beautiful, warm and unforgettable places!
Relaxing your jaw muscles for less stress
Stand up straight and open and close your mouth slowly. Then all you have to do is circling your jaw and your pelvis in the same rhythm. Do that to relaxing music and you will soon feel the energy.
Happy optimists
According to a US study, optimists are healthier and have a higher life expectancy. That is reason enough to free yourself from negative thoughts and look into the future with confidence.
Even more about Healthy sleep