Wellnesshotel Allgaeu Bavaria
Wellnesshotel Allgaeu Bavaria
Wellness hotel Allgäu: Enjoying a restful time-out far away from everyday life. A spa break at one of the wellness hotels Germany in the Bavarian Allgäu equals relaxation. Clear lakes, green meadows, and impressive mountains define the extensive landscape. Amidst this beautiful scenery it is easy to take a step from the hectic everyday life. Together with their partner, guests enjoy a spa break in one of the wellness hotels and can make it either active or relaxing, just as they want. Also friends who wish to go on a spa break together will have no problem finding a hotel in the Allgäu region matching their requirements. Once there, guests are encouraged to forget about the duties everyday life entails and focus on spending a relaxing couple of days instead. Others will get their money's worth when staying in the Allgäu region with their entire family. Whilst children can play supervised at the childcare the family-friendly hotel in the Allgäu provides, parents may use the time and enjoy a full wellness package. Spa treatments are created according to the individual and unique needs of each guest. Here, unforgettable moments are created which will bring joy once guests are back in everyday life.
Wellness Allgäu: How do spa-breaks in the Allgäu region look like?
The main focus when booking a spa break in the Bavarian Allgäu region lays on recovery from everyday stress and the general improvement of the guest's wellbeing. This journey can look different for every guest. Some guests appreciate the picturesque landscape of the Allgäu region and love taking part in outdoor activities. The Allgäu region's diverse scenery with many different landscapes such as the Alps and the Ostallgäuer Seenland (a collection of lakes in the Eastern Allgovian region) is the perfect location for a memorable spa break. The Ostallgäuer Seenlandincludes several lakes that invite guests to go for a refreshing swim:
Forggensee
Bannwaldsee
Hopfensee
Weißensee
Alatsee
Alpsee
Schwansee.
Forgensee in the town of Füssen is the biggest lake in that area and moreover also Germany's biggest reservoir. Whilst the lake lies fallow in winter, it offers numerous activities such as sailing, Stand Up Paddling, canoeing, pedal boating or wind surfing in summer. The Allgäu is particularly well known for the mountains which are located on the Eastern side of Lake Constance and belong to Bavaria as well as the Austrian federal states Vorarlberg and Tyrol. The Allgovian Alps are characterized by a diverse vegetation that partly consists of steep mountains. The popular ridgeways enable hiking tours that last for several days and lead along the mountain ranges, without having to descent in the valleys. Whilst easier routes also allow beginners and children to take part in this particular activity, advanced mountaineers get their money's worth climbing Allgovian mountains such as the 'Krottenkopf' or the 'Hochfrottspitze'. The Nebelhorn is the highest mountain that can be reached by the cable car. Moreover, there are a number of waterfalls, such as the ones in Scheidegg and Buchenegg, waiting to be discovered. Guests of wellness hotels in the Allgäu region will come across canyons and ravines. These being the remains from the ice age, wellness guests will be walking through a piece of history. Well known are, amongst others:
Breitlachklamm
Eistobel
Starzlachklamm
Pöllatschlucht
Steigbachtobel

Together with their partner, friends or family, wellness guests not only discover the surrounding nature but also interesting cities as well as regional sights. Historic places invite guests to explore old alleys or mooch around the city. Cities in that region are:
Kempten
Memmingen
Wangen
Isny
Leutkirch
Fuessen
Balderschwang
Gunzried-Offenschwang
Oberstdorf
Bad Grönenbach


The Allgäu region also has numerous cultural highlights to offer for those who are interested. Very well known and highly popular amongst visitors is the Neuschwanstein Castle on which construction began aback in 1869. Even though the construction was never finalized, it is considered one of Bavaria's most important sights and serves as architectural inspiration worldwide.
Hotel Allgäu: Where can I find the spa break that suits me?
The wellnesshotel 'Sommer' in Fuessen offers quietness and relaxation with an astonishing panoramic view on the surrounding Alps and Neuschwanstein Castle. An extensive wellness program, a waterpark, as well as a sauna area complete this deal. The 'Hubertus Alpin Lodge & Spa' in Balderschwang is perfectly suited for guests to distance themselves from the chaos and stress of everyday life. The hotel focusses on a holistic spa break approach, so its guests can focus on their very own, individual needs. 'Bad Clevers Gesundheitsresort & Spa' is a place of peace and quiet that encourages its guests to either relax extensively in Bad Groenenbach or choose to take part in the varied activity program. 'Schueles Gesundheitsresort' has a similar focus. Amidst the cozy flair and cordial service, this hotel specializes in medical wellness. Trained doctors and therapists take care of the wellness guests. Their personal wellbeing is what is most important. Those among the wellness guests, that wish to spend their spa break with their children consider staying at the 'Allgäuer Berghof' in Ofterschwang-Gunzesried. The family-friendly hotel not only offers numerous activities that excite any child as well as competent childcare, but also is the place for adults to enjoy their well-deserved spa break with soothing beauty- and classical treatments.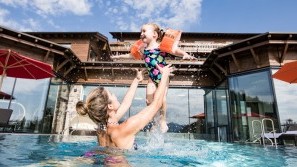 Wellness at Bavarian Allgäu: From wellness to family friendly hotels – Main focus on individual needs
Wellness and children – How is that supposed to work? Well, it sure does. There are wellness hotels in the Allgäu region, whose main focus is on families and children specifically. With special attention on relaxation for the whole family, these wellness hotels have a broad offer for the little ones as well as for older guests. Several play rooms, their very own wellness area as well as child care ensures that the younger guests can fully enjoy the family vacation. As their children are happily making use of the perks the hotel has to offer, parents discover the spa area. The diverse wellness treatments pamper guests and fulfill every wish. Spending a restful time together as a couple in the hotel's spa area or a regenerating massage promise an unforgettable wellness experience, that has a lasting and positive impact on the guests.
Bavarian Allgäu Hotel: Between exercise and relaxation
Many wellness guests are looking for physical activity during their spa break. If there is too little time to incorporate some exercise in their daily life, guests are actively seeking to go out and enjoy fresh air. The broad sport- and leisure program ensures that every guest gets his or her money's worth. Situated in the countryside, the hotels are the ideal starting point for activities, both on foot and by bike. Taking the bike is a perfect way to explore the Allgäu's picturesque landscape –no matter what your current fitness level might be. Due to the different slopes and route lengths, every cyclist finds his or her ideal route. Jaded but happy they can then return to the hotel and relax.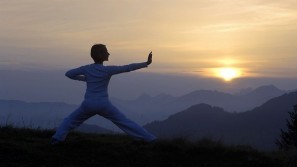 Spa Break Allgäu – Explore an exquisite cuisine
After spending a day doing all sorts of sporty activities, many wellness guests like to indulge in the outstanding cuisine the Allgovian are has to offer. This is the perfect opportunity to taste the regional dishes that include:
'Allgäuer Kässpatzen' – Allgovian cheese noodles
'Flädlesuppe' – a soup with savory pancakes
'Krautwickel' – stuffed cabbage
Many of the recipes that are considered traditional Allgovian dishes, are based on the main ingredients: flour, eggs, milk, cheese and lard.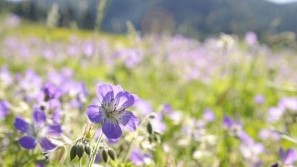 Hotels in the Bavarian Allgäu region: When is the best time for a spa holiday?
Enjoying spring in the Allgovian mountains during a spa break 
Experiencing spring in the Allgovian mountains is utter relaxation for mind and body. As winter slowly fades away, flowers start blossoming. When going for extended walks, guests  are able to see residual snow as well as colorful tulips, crocuses and other flowers. The Allgäu's stunning scenery awakes from hibernation and especially the flat mountains of the Alpine foothills invite guests to go hiking. 
A special experience is the Lech river in Fuessen when its water level is getting higher due to melting snow. A narrow bridge enables a breathtaking view over the wild water. Moreover, the picturesque historical center of Fuessen invites guests into one of the many little street cafés or to have stroll through the city. 
Nature enthusiasts particularly enjoy climbing up the 'Tegelberg'. For those with less stamina there is also a steep grade railway that can be used. Culture enthusiasts will not be disappointed either when visiting the Allgäu region. How about visiting one of the world's most popular castles, situated right in the mountains: The 'Neuschwanstein Castle'? After visiting the fairy-tale-castle, hiking through the canyon 'Poellatschlucht' is a truly pleasant experience. This path is accessible again early in the year and hiking through the canyon, it leads right back to Schwangen. Here, guests are encouraged to visit Hohenschwangen Castle, once home to Maximilian II of Bavaria. 
Climbing the Alps in summer and refreshing in the cold water of the Eastern Allgovian lake district
Spending summer in the Allgäu region is a special experience. Nature shows off its most beautiful side once the temperature is rising. Green meadows surround the lakes inviting guests to go swimming, sailing, stand-up paddling or enjoying all other kinds of watersports. One can even experience canyoning. 
Should guests wish to explore a different side of mountains in that region, they are invited to join guided tours through the remainder of the ice age. Those who aim high may make use of the great weather during summer and take part in hiking and climbing tours through the Allgovian Alps. Once the peak is reached, adventurers can indulge in the culinary offers or simply celebrate with a cold drink.
Autumn in the Allgäu: Experience the culture                                                                          
A special tradition awaits all of those, who pay the Allgäu region a visit in autumn. In September the herds are returned to the valley after spending summer on the upland meadows. This ceremony is called 'Viehscheid' and it usually is a big celebration with large festival tents and many visitors. 
Winter in the Allgäu region: A paradise for winter sorts
During the colder months of the year, the Allgäu turns into a white winter wonderland. The slopes in the Allgovian Alps are over 250 miles long and with a total of 43 skiing areas, beginners as well as advanced skiers are able to enjoy and make the most of their time. 
Christmas and New Year's Eve: Enjoying the spa break at wellness hotels in the Allgäu region
As, ideally, everything should go smooth and according to plan on Christmas and New Year's Eve, many people associate this time with chaos and stress. During a spa break at the wellness hotel, guests can focus on getting pampered and enjoying the holidays. Instead of the festive stress, the schedule holds delicious menus, soothing wellness deals and an overall relaxing spa break. New Year's Eve is traditionally celebrated big with everyone having hopes and wishes as well as resolutions for the upcoming year. Less stress and more mindfulness for your own life instead: How is this supposed to work, when you already start into the new year stressed? To ensure a smooth and relaxed turn of the year, it is recommended to take a spa break over the holidays.
Wellness weekend in the Allgäu: Enjoying a relaxing spa break
There is little time, yet you are in desperate need of a break? Why not plan a wellness weekend in the Allgäu region then? Escaping every day life for a short while and enjoying the pure nature instead: This means ultimate relaxation. Once arrived at the hotel, guests can take time for themselves. Wellness package deals that mind and body benefit from, time in a spa area in which we focus on our needs or wellness treatments that have a lasting effect: That is what a spa break in a wellness hotel in the Allgäu region feels like.