Find your Wellness hotel in Germany | Austria | Czech Republic
Wellnesshotel Finder
Wellness hotels - relaxation and recreation
A time-out at a wellness hotel - Who doesn't dream of escaping everyday stress at least for a short time and being pampered at a wellness hotel? Whether it's treatments at the spa, a sauna session, a relaxing massage or simply being in the great outdoors - wellness holidays offer relaxation and soothing recreation for everyone.
Wellnesshotel - what is a wellness hotel exactly?
First of all, it is important to note that "wellness" or "wellness hotel" is not a protected term. In principle, any hotel can call itself a "wellnesshotel". However, guests can judge very quickly whether the hotel they have booked is a real wellness hotel. First of all, a swimming pool and various saunas are basic requirements. In addition to this, every wellness hotel has to have a spa. Here, qualified staff performs a wide variety of treatments. These range from massages to beauty treatments and baths to yoga or fitness courses. In "real" wellness hotels, the care of the guests is carried out based upon the 4 pillars of wellness:
Nutrition
Exercise
Relaxation and
Social & emotional support.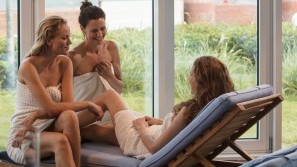 Furthermore, a wellness hotel is characterised by being located close to nature. The dishes on the menu should come from the wellness-vital cuisine, i.e., the ingredients should preferably be from the region and from organic cultivation.
How do I have to dress at the spa of a wellnesshotel and what rules do I have to follow?
Most wellness hotels provide their guests with bathrobes free of charge. Often, terrycloth slippers are included as well as a bag with bath towels. Under the bathrobe, you either wear a bathing suit/bikini or swimming trunks.
The spa and wellness areas should not be entered with outdoor shoes.
The saunas are considered nude areas. Here, a towel is the maximum covering desired. Swimwear is considered unhygienic.
Those who have booked a treatment should report to the spa reception at least 5-10 minutes beforehand. If you arrive late, this time will be deducted from the treatment time.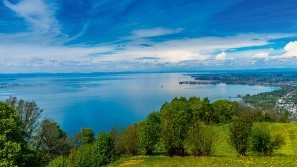 Those who cannot do without their mobile phone even at the spa should set it on silent mode. The use of a camera is prohibited. In general, conversations at the spa and wellness area should be kept quiet.


Where can I find the most magnificent wellnesshotels?
Wellnesshotels are as diverse and individual as the regions in which they are found. There are excellent wellness hotels not only in Germany but also in Austria and the Czech Republic. Of course, it also depends on the time of year you want to travel.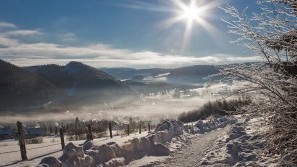 At what time of year should you go on a wellness holiday?
Winter at a wellnesshotel
Many people who go on wellness vacations like to spend their winter holidays or a weekend in the mountains in
- Austria
- Bavaria or the
- Black Forest.
However, there are also top wellness hotels in the Czech Republic for a relaxing wellness break.
Then it's time to get out of the city and into nature! Perfectly groomed slopes for rapid descents on skis or snowboards, groomed cross-country trails through snow-covered forests or simply an extended winter walk through the beautiful nature – all of this makes a time-out at a wellness hotel so relaxing and lets you forget the hectic pace of everyday life.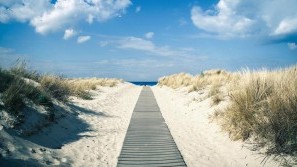 Wellness and sporting activities can be combined wonderfully: What could be more relaxing after a day in the cold winter air than a massage to loosen up tense muscles or a visit to the sauna? It doesn't have to be a Finnish sauna with its very high temperatures. A visit to a bio sauna or a steam sauna can provide relaxation just as well. Afterwards, relax and rest in a cosy bathrobe at the spa. Time to let your soul dangle and enjoy the appealing ambience at the spa. Wellness and pampering in the form of a treatment of the face or body after a long day in the fresh air is of course also a good idea for the skin. Afterwards, you are ready for the next day out in the wonderfully fresh winter air.
Also, in the north of Germany with its shores at the Baltic and North Sea or the North Sea islands, guests can enjoy all-round pampering during a time-out at a wellness hotel. Those who don't mind the northern German rainy weather can clear their heads with extensive walks on the beach. The perfect way to get away from everyday life for a while and find rest and relaxation. It doesn't always have to be a long stay, often a short wellness break in the varied landscape around the wellness hotels is enough to nurture the soul.
After spending time outdoors, a visit to the spa of the wellness hotel is always a pleasure. A relaxing or stimulating bath or an extensive visit to the sauna are the perfect end to a wonderful day in nature. If the weather should be too rainy, you can of course relax all day in the beautiful ambience of your wellness hotel without so much as having to take off your bathrobe. A time-out from everyday life for body, mind and soul. Whether it's nourishing treatments, baths or relaxing massages - a day at the spa is pure wellness.
Many guests also use their stay at a wellness hotel to improve their bodily health. In almost all hotels, guests can book a wide variety of fitness courses. The offers range from relaxation courses such as yoga or Qi Gong to aqua gymnastics or Pilates. Those who prefer to relax, can also spend the day in a bathrobe on a lounger at the spa.
Just as attractive for a wellness vacation as the north or south of Germany is its centre. The Sauerland with its forests and mountains offers all nature lovers the best conditions for a short holiday or a wellness weekend. The top wellness hotels in this region of Germany pamper their guests with individual wellness offers, modern wellness areas and excellent regional cuisine. Alpine skiing, cross-country skiing or a hike through the snow-covered nature, all can be experienced in the "Land of 1000 Mountains". The Sauerland is particularly interesting for a short holiday because of its proximity to the large cities, for example in the Ruhr area. From there, you can be in the middle of the Sauerland and out of everyday life in no time.
What can you do at a wellnesshotel during summer?
Summer and wellness - these two components are inseparable for many people who enjoy wellness vacation frequently. Get out into the unique nature around the wellness hotels and enjoy the sun with a variety of activities - cycling in the near and far surroundings, hiking, climbing or swimming in the sea.
Take advantage of your time out to get some exercise in the fresh air after the long winter. In some wellness hotels, guests can rent e-bikes or mountain bikes or experience the surroundings around their hotel on guided hikes.
Complete spa-packages are very popular. You can book packages that include overnight stays as well as treatments such as baths or cosmetic treatments.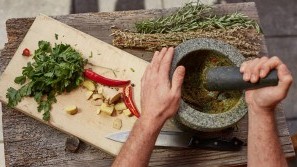 Naturally, exercise in nature also makes hungry. In many wellness hotels, guests enjoy fresh, regional cuisine of the highest quality. Wellness for stomach and soul! If you wish, you can choose between vegetarian and/or vegan dishes in most hotels. Of course, allergies and individual wishes are taken into consideration as well.
Who is the best person to spend a holiday in a wellnesshotel with?
A holiday at a wellnesshotel is not only an opportunity for couples or newlyweds to spend time together outdoors in nature or at a spa. Also, families or senior citizens can book offers specially tailored to them at wellness hotels. How about some time out with your best friend or your mother? Also, men have come to appreciate the diverse offers in the hotels.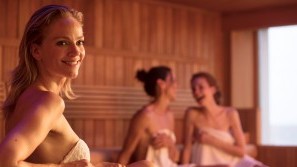 Specialized wellness hotels - Adults only, family wellnesshotels and resorts
Most Adults only wellness hotels welcome guests from the age of 16 onwards. In these establishments, guests experience a little time away from their children. Often, couples who would like to spend some undisturbed time together can be found here. They enjoy couple's massages, a shared Cleopatra bath or a candlelight dinner in a stylish ambience. Indulgence on all levels for adults only, to be fit for everyday life and the children afterwards
The exact opposite of Adults only wellness hotels are family wellness hotels. Families with children are very welcome here. With optimal care for the children, parents still have the opportunity to enjoy wellness treatments, relax and spend a few hours at the spa. Spa time can also be spent together in the family sauna or the swimming pool. The best conditions for a successful family holiday that makes all family members happy.
The guests at wellness hotels appreciate the high quality of the hotels and the possibilities they have there and have often been staying at the same hotel for many years. On the one hand, this is certainly due to the beautiful landscape - whether mountains or the sea – the hotel is located in. On the other hand, the high quality of the wellness hotels with their excellent wellness areas and professional treatments is certainly a decisive criterion as well. Here, many people find the peace and quiet they often lack in their everyday lives.
Chose you preferred hotel facilities
31 Hits to your selection
31 Hits to your selection