Time for men

Wellness treatments for men.
Times when wellness used to be something only for women are long gone. Going to the sauna, biking and enjoying delicious food: Wellness is just as perfect for men as for women.


It took men quite some time to discover the advantages
of wellness but we are finally here!
But when it comes to spa treatments, men can nevertheless still learn: Mostly they decide to get simple massages, which is in and of itself a good decision, but there is so much more to discover. Starting from face applications focussed on men skin to whole body treatments, which spoil men from head to toe there are a thousand possibilities to explore.
The 'Wellnesshotel Sonnengut' pampers men's bodies with a revitalizing body program including a body exfoliation made out of aroma oil and dried herbs. After, neck and back massages with combs out of buffalo hair lose bracings and get the blood circulation going.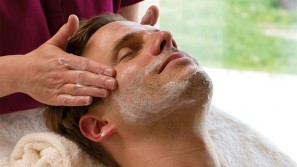 Also the 'Parkhotel Soier See' spoils and beautifies men. Of course also here whole body treatments can be enjoyed but as an extra special there are manicures and pedicures offers just for men.
In the Hotel 'Deimann', the beauticians specifically take care of stressed men's skin. If this didn't convince you dear men, here is the last beating argument: In some spa areas there is even beer like in the 'Göbel's Schlosshotel' 'Prinz von Hessen'.
Times are officially over when men didn't enjoy spa stays!
Our Time for men-Tips for you
Fit despite a lack of time
Have a mini-workout at the office? No problem at all! Whether you cycle to work, walk the stairs instead of taking the elevator or simply incorporate some light movements whilst sitting at your desk. You can do so by taking two 0,33l water bottles and use them as dumbbells.
See you later
A tip for anyone that just needs to take a deep breath. Close your eyes for a moment and let your mind wander. Think back to a time in which you were truly happy, reminisce, pause, take a deep breath and get back to reality a lot more relaxed.
Garden fitness
If the sun is shining, it is the perfect opportunity to make your garden look its best again. Digging up flower beds, cutting hedges or removing garden waste in a wheelbarrow. These activities boost calorie consumption (approx. 300 kcal/h). So: Half a day of gardening corresponds to one hour of walking. It's worth the effort!
Even more about Time for men