Massages & Physiotherapy

Massages in the wellness hotel
Lie on a comfortable lounger in the spa area, listen to relaxing music and enjoy a soothing massage: For many there is nothing more wonderful. A feel-good massage pampers all your senses. Soft or strong touches during the massage ensure holistic relaxation, because the massage reduces accumulated stress.
Through the soothing touch during a massage the body releases the hormone oxytocin, which reduces the stress hormone cortisol. This improves the inner imbalance and a warm feeling of well-being is achieved. Soothing or activating, relaxing or stimulating: massages have different effects on the body and are definitely beneficial.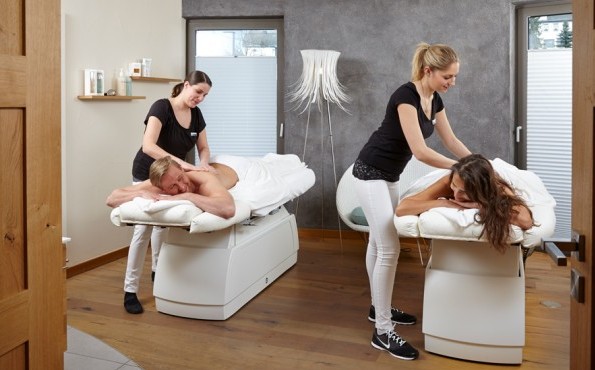 Types of massages
Massages are the most popular spa treatments for guests at the wellness hotel. No wonder, because a wide range of different massage types and techniques ensures that every guest finds one that suits him or her.
In general, massages are techniques in which a masseur applies pressure and tensile stimuli to the guest's skin with his hands or aids. The various aids include oils, herbs and stones, but also balls and brushes. While some people treat themselves to a feel-good massage now and then to relax, for others massages are a medical necessity. A distinction can be made between the types of massage: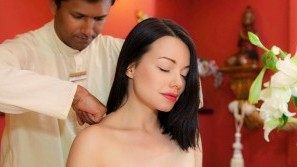 Feel-good massages:
With feel-good massages, the focus is on the well-being and relaxation of the person being massaged. The gentle touch, the pressure of the hands and various aids make a massage a very individual relaxation experience. The focus here is on the guest and his or her needs, which often include relaxation from everyday life or the reduction of stress.
Sports massages:
Sports massages have a focus on the physical performance of an athlete. The aim is to prepare for sporting activities or to loosen the muscles after the physical activity, which facilitates regeneration.
Medical massage:
Medical massages take place to help the body regenerate after an injury. They are often prescribed by a doctor for this reason. Massages of a medical nature include, among other things, the setting of vertebrae or the release of blockages and tension. For this reason, the people being massaged often do not find this type of massage relaxing, but only consider the result of the massage to be an improvement in their well-being.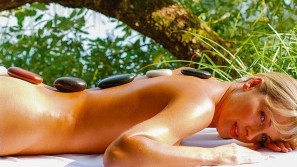 Massage techniques
In addition to classic massages, wellness hoteliers offer a wide range of massages in their spas.
From techniques from Ayurveda to Traditional Chinese Medicine to massages with stones, herbs or oils: the offer is versatile. Popular massage techniques include:
Classic massages
Swedish massage
Foot reflexology
Ayurvedic massages
TCM (Traditional Chinese Medicine)
Acupressure
Tuina massage
Massages with stones, herbs and oils
Aroma full body massage
Herbal stamp massage
Slow Stroke Massage
Honey massage
Hot Stone Massage
Massages with rollers, balls and brushes
Blackroll
Rolfing
Brush massage
Other massage techniques
Hydrojet massage
Lomi-Lomi-Nui-Massage
Singing bowl massage
Esalen massage
Our Massages & Physiotherapy-Tips for you
Backstroke
Thirty minutes in the water do not only train numerous muscles but swimming backstroke massages your neck and shoulder area which enables a better circulation. This then reduces tension and headaches.
Soothing bath
Already Cleopatra knew that a beauty bath has a calming effect on your (irritated) skin and nerves. Mix together 2 tablespoons of cream, 2 table spoons of honey as well as a trop of lavender- and lemon balm oil and pour it into the water.
Seesaw
Short workout against varicose veins: Stand up barefoot and seesaw from heels to toes and back. Then shake your legs and repeat (for the best results repeat five times)
Even more about Massages & Physiotherapy