Wellnesshotels Mecklenburg Western Pomerania

Summer Spa & Riding Holidays in Mecklenburg Western-Pommerania
To many travellers from outside Germany, the suggestion that one might spend the summer reclining on one of its many beaches at Mecklenburg Western-Pommerania´s Baltic Sea side is perhaps a little unusual. To those who live in Germany, however, this is nothing new. Whether the holidaymaker wishes to spend a summer alternating between exploring the many unique boutiques, museums, and pottery shops and reclining in a striped wicker chair on many of its wide, unspoilt beaches, the Baltic Sea knows best. Combined with an active holiday cycling from one artists' village to the next, or observing the diverse wildlife on the Bodden Sea of Western Pomerania's Lagoon Area and other national parks, Wellness in Mecklenburg Western-Pommerania lets the long flight to a Southeast Asian beach resort seem suddenly quite unnecessary.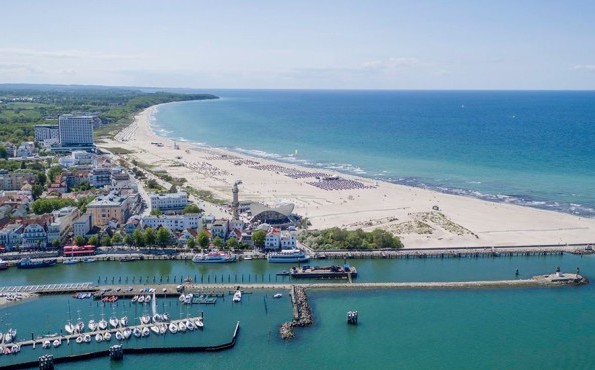 Lakes and nature parks in Mecklenburg-Vorpommern: Wellness for all senses
The lake district in Mecklenburg-Vorpommern is known as the Mecklenburg Lake District. Hundreds of lakes connect here to form the largest network of waterways in the whole of Germany. Germany's largest lake, the Müritz, is also home to wellness holidaymakers. Other popular bathing lakes are:
Lake Krakow, Jörnberg bathing establishment
Schwerin lake, Zippendorf beach
Tollensee, Neubrandenburg
White Lake, Wesenberg.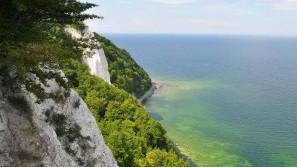 Many of the lakes are located in protected natural landscapes in Mecklenburg-Vorpommern. These account for over 30 percent of the total area of Mecklenburg-Western Pomerania. Wellness holidaymakers can discover three national parks in Mecklenburg-Western Pomerania, these are the following:
Jasmund National Park on the island of Ruegen Island
Mueritz National Park, which covers the Mecklenburg Lake District
National Park Vorpommersche Boddenlandschaft.


The diverse nature parks such as the nature park Insel Usedom, the nature park Sternberger Seenland or the nature park Mecklenburgische Schweiz are also impressive for their natural diversity. The island of Usedom is a popular tourist destination in Mecklenburg-Western Pomerania. Here, guests can choose between colourful beach life and romantic villages that offer peace and tranquillity. And nature is also diverse: in addition to forests and fields, wellness holidaymakers here enjoy steep and sandy beaches, moors and dune country sheep.
The Sternberger Seenland Nature Park is the landscape that boasts an above-average number of clean lakes where the rare otter is at home. The forest area near Feldberg is also impressive to look at. Trees over 50 metres high and the naturalness of the forest give an impression of former primeval forests. The name Mecklenburg Switzerland comes from the comparison with the hilly Switzerland south of Germany. Wellness holidaymakers will find many castles with gardens as well as many manor houses here. Holidaymakers who want to combine wellness in Mecklenburg-Vorpommern with experiences in a diverse natural environment will find a wide range of offers here.
Mecklenburg-Western Pomerania can be divided into eight scenic regions, all of which impress with their diverse nature. Each guest will find a landscape in Mecklenburg-Western Pomerania to suit his or her individual taste, which perfectly matches his or her wellness holiday. The regions include:
Baltic Sea coast Mecklenburg
Fischland-Darss-Zingst
Island of Ruegen
Island of Usedom
Western Pomerania
Mecklenburg "Swiss"
Mecklenburg-Schwerin
Mecklenburg Lake District
Wellness Mecklenburg-Western-Pomerania: Great ideas for city trips
In the towns in Mecklenburg-Vorpommern, often built in the 12th century, brick Gothic and the numerous tree avenues predominate. Windmills are characteristic of the region. Wellness holidaymakers will find some well-known Hanseatic cities here, whose effects wellness holidaymakers can still feel in the townscape and ambience today. The Hanseatic city of Rostock, for example, is very well known. Holidaymakers experience maritime flair combined with old seafaring romance. A great holiday destination especially for lovers of seafaring.
For all those who prefer a smaller and more comfortable hotel, a wellness hotel in Warnemuende makes sense. Warnemünde is situated at the mouth of the Warnow river into the Baltic Sea and is a charming former fishing village. The village invites you to linger - either for a leisurely stroll along the idyllic promenade or for a relaxing day at the beach on Warnemünde's coast.
Another town worth seeing in Mecklenburg-Western Pomerania is Binz on the island of Ruegen. Binz is the largest seaside resort on the Baltic Sea island and offers the best conditions for wellness holidays on the Baltic Sea. Those interested in culture in particular will find all sorts of things worth seeing here: from the spa architecture that runs through the whole town to the Granitz hunting lodge.
The Baltic seaside resort of Thiessow, which lies south on Ruegen on the Mönchgut peninsula, is also worth a visit. The region here invites you to take long excursions along its many steep and flat coasts, wide beaches and walks through the coastal forest. Thiesoow is an old fishing village from which wellness holidaymakers can also discover the rest of the island and return to the cosy wellness hotel in Thiessow in the evening.
The island of Usedom with its many seaside resorts is also a popular destination on the Baltic Sea. Here, wellness holidaymakers interested in culture can experience art exhibitions and concerts in the Heringsdorf Art Pavilion, which is located directly on the beach promenade. Nature lovers can take a look at the stars. From June to August, the public observatory offers guided tours with sky observations as well as lectures on various topics. Those who do wellness in Mecklenburg-Western Pomerania in a hotel on Usedom will also find Germany's longest pier, the Heringsdorf pier, at 508 metres.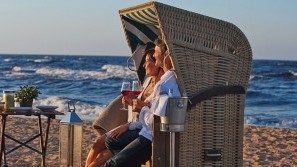 Recreational holiday in Mecklenburg-Western-Pomerania
The Baltic Sea with its islands and peninsulas as well as its guarded and clean beaches invites you to relax and unwind. From the Hanseatic cities, piers lead 100 metres into the sea, which serve as landing stages for ships or simply as promenades. Hanseatic cities are Rostock, Wismar, Stralsund and Greifswald. Boat trips from one island to the other are a delight for young and old. Wide sandy beaches lead to salty sea water where you can swim and swim in the sea. Whether single, senior, family with child or couples in love, everyone loves to romp around on the beach of the Baltic Sea. It is also fun to search for shells and amber. You can also do a lot of things on the water, for example you can take a houseboat or yacht across the sea. Sailing, water skiing, windsurfing and parasailing make your holiday perfect. Diving for fish and watching them is very exciting, but you can also just go fishing.
Wellness hotels in Mecklenburg-Western-Pomerania
An interesting hotel for wellness in Mecklenburg-Western-Pomerania is, for example, the Grand Hotel Binz on Rügen, built in the style of spa architecture and located on the quietest part of Binz. Surrounded by beech woods, wellness holidaymakers can choose between the soothing sea breeze and fresh forest air. One of the focal points of the wellness hotel is "Authentic Ayurveda". From individual wellness offers to comprehensive programmes: Wellness guests with an affinity for Ayurveda experience qualified offers of the ancient Indian teachings.
Relaxation from everyday life is also easy on the island of Usedom at the Strandhotel Ostseeblick. With a direct view of the Baltic Sea and individually designed rooms, guests here enjoy a wellness break by the sea. In the MEERness-Spa, guests can choose from numerous wellness offers: Here Baltic Sea wellness is combined with the healing natural products of the sea. From swimming in the panorama pool with light and sound to beauty treatments and massages with sanddron, honey and Rügen healing chalk: wellness guests experience their holiday here with all their senses. Sea salt peeling, algae baths, detoxification packs and body massages are only a small part of the range of offers for a relaxing holiday in Mecklenburg-Western-Pomerania.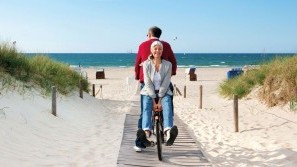 Another wellness hotel located directly at the sea is the Hotel Neptun in Warnemünde. The wellness hotel is known as the first original Thalasso centre in Germany and has thus made a name for itself internationally. At the Neptun Spa, wellness guests also bathe in seawater, which is pumped fresh from the Baltic Sea directly into the hotel. Thus, even on cold days, holidaymakers can enjoy a bath in the soothing seawater, which is considered the most direct form of the thalasso concept. 
Wellness Mecklenburg-Western-Pomerania: An experience for every taste
Anyone who spends their holiday in a wellness hotel in Mecklenburg-Vorpommern will definitely find something suitable in this federal state. Whether on the Baltic Sea - on Binz, Ruegen or Usedom - or on the lake district: wellness holidaymakers treat body, mind and soul to a time-out with refreshingly sensual wellness experiences.