Yoga

Yoga Retreat in a Wellness Hotel
A yoga retreat is the perfect opportunity to learn the basics of yoga or to practice the Indian teachings in depth. Yoga Retreats can be experienced in a very traditional and original way in India. But if you don't want to travel so far, there are also numerous offers in Europe. In the Wellness Hotels & Resorts, guests experience a pleasant ambience and all the amenities that make a Yoga Retreat at a Wellness Hotel a very special experience.
A Yoga Retreat lasts for several days or even weeks. During the entire time the guest is looked after by a qualified trainer. During several yoga sessions a day, the guest can recharge his batteries, learn a lot of new things about yoga as well as about himself, and of course improve significantly in order to achieve personal goals and optimise his body awareness.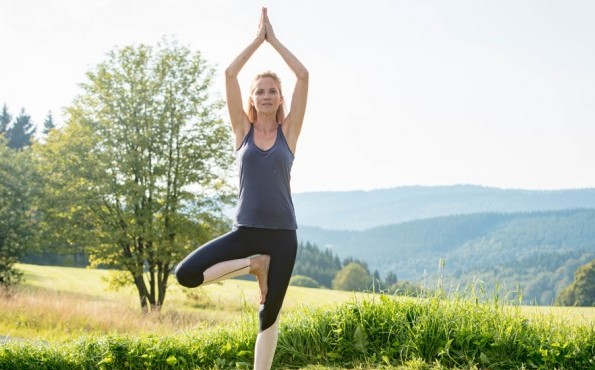 Yoga Retreat in Germany
From North to South: Yoga Retreats are offered in many wellness hotels in Germany. In most cases, the hoteliers work together with external yoga teachers. These teachers come to the wellness hotel exclusively for the retreat and look after the participants extensively and professionally.
The choice of yoga retreats in Germany is now so large that weekends or weeks of special yoga types and styles are also offered. Here everyone will find something suitable, for example:
the relaxing Hatha Yoga,
the physically demanding Ashtanga or Vinyasa Yoga,
Kundalini Yoga with concentration on chakras,
Bikram Yoga, which is performed in particularly warm temperatures or
Aerial Yoga, which is actually practiced above the ground in floating cloths.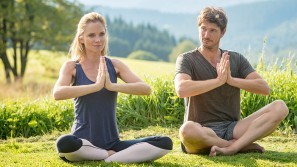 Yoga Retreat - what do I need?
Yoga is in vogue - all industries have recognised this by now. The range of yoga products is correspondingly large in all sectors. However, you actually need (almost) nothing to practice yoga. The only things that make sense at the beginning are a yoga mat and comfortable clothing.
Since many of the exercises are performed on the floor, you need a comfortable mat that also helps to protect joints like the knee. In terms of clothing, real yogis prefer to wear comfortable yoga leggings and tight sport tops. The tighter the clothing, the better the coach can see any misalignments when performing the exercises and correct them. Classically, yoga is also practiced barefoot.
Yoga Accessories
In addition, there are a lot of yoga accessories and a variety of aids that can make some asanas easier or help with stretching. Some examples are the yoga blocks for relief, yoga belts for more intensive stretching and yoga rolls for fascial work and stretching.
Yoga is usually performed accompanied by music. Therefore the right choice of music with relaxing sounds is essential for the right yoga atmosphere. In order to really reach all the senses, many trainers also use special scented oils at the end of the workout. The oils are opened for the relaxation phase so that they fill the room. Some trainers even apply a few drops to the temples of the participants. Depending on the scent, these create a very special atmosphere in the room and help to clear the mind and relax the soul.
Most yoga sessions are concluded by the so-called "Shavasana" and the obligatory "Om", which is spoken by all participants together. Shavasana" is a relaxation exercise in which every muscle and every part of the body is consciously dropped and relaxed.
Yoga Retreat Packing List
For the Yoga Retreat in a wellness hotel in Germany or Europe you usually do not need to pack any special things. Often the hotel provides the accessories from yoga mats to yoga blocks or whatever else is needed during the retreat. Only comfortable clothes have to be brought along - but these do not have to be special yoga outfits, leggings and T-shirt as well as a comfortable jumper and warm socks will do.
If in doubt, just ask the hotel of your choice. They will be happy to help you with the packing list.
Yoga Retreat packing list:
Leggings, fabric or jogging trousers
T-Shirts or Tops
Comfortable jumper or waistcoat
Possibly sports underwear
Warm socks
anyone who wants to:
Yoga Mat
Warming cloth or blanket
for the stay in the wellness hotel:
Swimwear
Somewhat more chic clothes for dinner
Sturdy shoes for walks and hikes
Bathrobe and slippers for the spa will be provided during your stay at the Wellness Hotels & Resorts.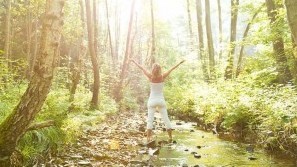 Strengthen your health in a Yoga Retreat
In the Yoga Retreat, guests not only experience a pleasant holiday, but they also actively do something for their own well-being.
With a focus on health, yoga is used for many different purposes: To strengthen the body in case of complaints such as back and posture problems, to strengthen muscles, ligaments and joints, to improve mobility, blood circulation and to stimulate the circulation.
Yoga is also widely used as a relaxation technique. There are also often individual yoga styles that are specially designed for certain complaints or requirements, for example "Yoga for the back" or "Yoga for pregnant women". So you see: Yoga is incredibly healthy and on top of that something for everyone. Whether young or old, man or woman, beginner or advanced - yoga gives everyone the opportunity to find themselves and work actively on their own body and mind. Try it out in the Yoga Retreat and you will be thrilled!
Our Yoga-Tips for you
Shared happiness
Are you in a bad mood? Then go and make other people happy! No matter if you do so by spending money to charity, writing your grandparents a letter or carry the shopping bags for your elderly neighbor: You will quickly realize that doing something good for somebody else will make you happy as well.
Fascination Fascias
Back pain and immobility are symptoms of glued fasciae. To prevent this from happening, you should exercise sufficiently every day and avoid permanent stress. Fitness studios offer fascia training for this purpose. However, you can also roll off comfortably at home with a so-called fascia roll.
One line a day
Today was not your best day? Surely, there was something good about it. Whether it is the sunset or a stranger's smile. If we write down three good things or feelings each day, we will fall asleep with a smile. So why not start a 'One line a day'-book?