Wellnesshotel North Hesse

Wellness break in Germany´s northern part of Hesse
The special getaway at any time of year. Hessen as a wellness destination is not an unknown phenomenon in German tourism. Guests who spend their short break in a wellness hotel in Northern Hesse associate it with wide meadows, wooded hill ranges and idyllic river valleys. Visitors experience nature in its purest form in Northern Hesse.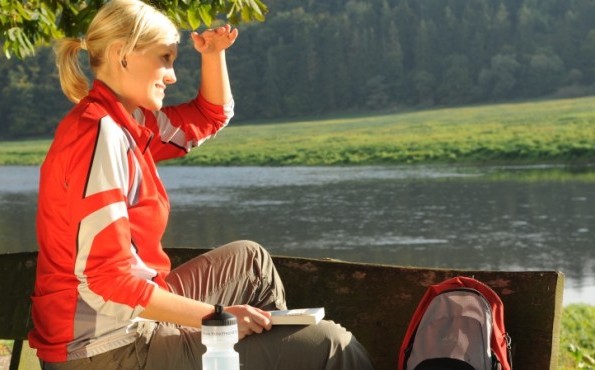 The Kellerwald-Edersee National Park and four other nature parks invite you to take long hikes through Hessen's nature - wonderful views are guaranteed here. On the Eitelsberg in the "Hoher Hagen" nature reserve you will find the only high heath in northern Europe.
In the midst of nature, you will repeatedly come across historic castles, fortresses and buildings such as Waldeck Castle. The baroque castle in Bad Arolsen and Wilhelmshöhe Castle with its large park are also worth seeing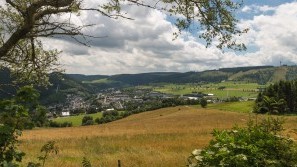 Discover fairytale paths on a wellness holiday in Northern Hesse
Northern Hesse is particularly known as the "Grimm homeland", because the Brothers Grimm spent several years in Northern Hesse in the 19th century, collected their world-famous fairy tales here and wrote them down.
Thus, you can find fairytale-like places in North Hesse such as the Sleeping Beauty Castle Sababurg in the Rheinhard Forest, the Frau Holle Pond in the Werra Valley or different fairytale sculptures in various towns in North Hesse.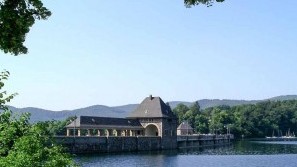 Wellness Hotel North Hesse: Discover the Kellerwald-Edersee National Park
In the middle of the Kellerwald-Edersee Nature Park is the national park of the same name, which is a UNESCO World Heritage Site. Lake Edersee, Germany's second largest reservoir, is part of the park. It is characterised by very good water quality and is therefore a popular destination for water sports enthusiasts. After a long drought, visitors can discover the Atlantis Edersee in the region. When the water level is low, ruins of villages that were flooded when the reservoir was built at the beginning of the 20th century then emerge. The nature park also includes a wildlife park and a treetop trail that offers insights into nature from several metres above. The summer toboggan run is also worth a trip: toboggan fans love to go for a spin here even without snow in summer.
Nature lovers go on holiday in a wellness hotel in Northern Hesse directly at the Kellerwald-Edersee World Natural Heritage Site. This way, you can combine excursions into this unique nature with all the amenities that a wellness holiday offers.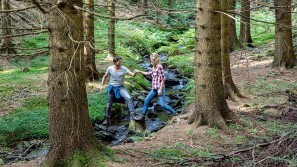 Wellness hotel in Northern Hesse: wonderful hiking routes
A popular leisure activity for guests on holiday in a wellness hotel in Northern Hesse is hiking. Because North Hesse has many great routes to offer, easy and more challenging, long and short. Hiking enthusiasts explore the surroundings on well-marked trails. Themed walks such as the Märchenlandweg (Fairytale Country Trail) or the Eco Path Archaeology Dörnberg in the Habichtswald Nature Park to natural-historical sights are particularly enjoyable. Horseback rides through such beautiful landscapes are of course also a special pleasure.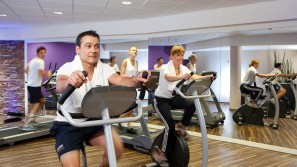 If you prefer to start your hikes directly from home, it is best to choose a wellness hotel in North Hesse in the midst of nature. There are various hotels in the immediate surroundings where excellent hiking routes invite you to take nature tours.
Sporty on a wellness holiday in Northern Hesse
Cyclists can discover the low mountain range nature of North Hesse on routes such as the Fulda Cycle Path, the Eder Cycle Path or the Water Cycle Path. Many wellness hotels are happy to provide their guests with bicycles. The numerous lakes and rivers offer water sports enthusiasts the opportunity to pursue their favourite activity - whether sailing, diving, surfing or water skiing. Golfers who like to combine exercise, company and fresh nature can play golf on many regional golf courses. Some wellness hotels are located in the direct surroundings of golf courses - sports lovers can thus play a round of golf right on their "doorstep".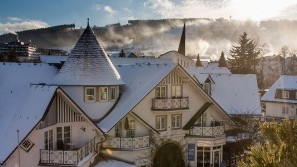 Wellness and winter sports in Willingen
In the cold season, the low mountain range landscape of Northern Hesse offers sports enthusiasts all kinds of opportunities to be active, as Hesse becomes a snow paradise in winter. The landscape is perfect for hikes through snow-covered landscapes. 
Whether downhill skiing or snowboarding: the slopes of Northern Hesse invite you to enjoy winter sports. For those who prefer to experience the landscape from a horse-drawn carriage, there are horse-drawn sleigh rides.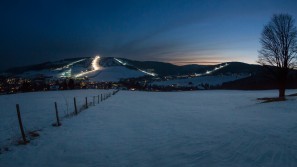 The ski resort of Willingen is a popular destination for winter sports fanatics. The World Cup ski jumping competition is held here every year at the Mühlenkopf ski jump in Strycktal. However, leisure sports fans also get their money's worth here with 16 km of prepared pistes. Thanks to numerous ski schools and snowboard courses, the region around Willingen is also particularly suitable for beginners of winter sports. The longest downhill run in the Sauerland with a total length of 2 kilometres is possible in Willingen - and promises pure winter fun!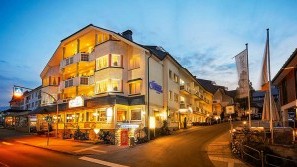 Wellness Hotel Northern Hesse: Göbel's Landhotel
Göbel's Landhotel is located in the winter sports centre of Willingen on the border to the Sauerland. Sports enthusiasts and nature-loving wellness guests are in exactly the right place here - also with the whole family. The wide range of wellness treatments also includes special treatments for pregnant women. The 1,000-square-metre Mountain Spa wellness area includes a swimming pool and five different saunas that invite guests to relax and linger. With the sister hotel in East Hesse, you have the chance to get to know this region as well.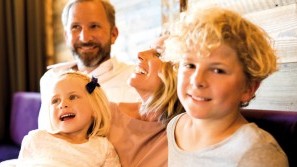 Wellness Hotel North Hesse: Sonnenpark Family & Wellness Hotel
The Sonnenpark Family & Wellness Hotel is characterised by its very special family friendliness. While the little ones have fun in the childcare, the parents get pampered in the spa. They enjoy the view from the panorama sauna as well as the steam bath, a fireplace lounge and much more.
In summer as well as in winter, the whole family may also enjoy the leisure activities in nature at the wellness hotel in Northern Hesse - from the mountain bike course to the ski lift nearby.