Golf & Wellness

Wellness and golfing
Getting physically active in nature and relaxing in the spa area is a perfect combination. Next to going on hikes and doing bicycle tours, golfing has become very popular. Whereas golf used to be something only for the rich people, these days almost everyone can practice this sport. Whether you enjoy classical golfing sessions or maybe even cross-golfing, which includes golfing at urban places, It's definitely a fun activity.
But why does golfing fascinate so many of us? Mostly, it's about being in nature and doing good to our bodies. Golfing is not only about training your endurance as you have to walk long distances but also about training your muscles and reducing stress. But for most it is about fun: Going golfing with your friends, competing with each other and simply spending time together.
Wellness vacations and golfing
Most wellness hotels offer the perfect opportunity to combine wellness and golfing, doesn't matter where in Germany.
Great golfing facilities offer the following hotels:
Hotel Deimann - North-Rhine-Westphalia (NRW) destination Sauerland
Hotel Heinz - Rhineland-Palatinate destination Westerwald
Moselromantik-Hotel Keßler-Meyer - Rhineland-Paltinate destination Moselle
Göbel's Schlosshotel 'Prinz von Hessen' - Hesse destination East Hesse | Bad Hersfeld
Jammertal Golf & Spa Resort - NRW destination Muensterland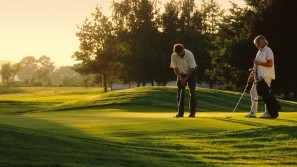 Golfing and wellness in Bavaria and Austria | Tyrol
Also in Germany´s southern states wellness tourists can enjoy a wide range of golfing facilities. Wellness hotels definitely worth a visit are:
Hotel Mooshof - Bavaria - destination Bavarian Forest
Schüle's Gesundheitsresort & Spa - Bavaria - destination Allgäu
Hotel Eisvogel - Bavaria - destination Lower Bavaria
Wellness-Hotel Sommer - Bavaria - destination Lower Bavaria
Mühlbach-Thermal Spa & Romantik Hotel - Bavaria - destination Lower Bavaria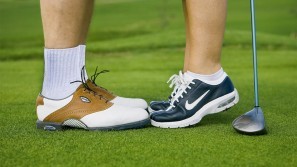 Golfing at the North Sea & Baltic Sea
Also at the coast regions of Germany one can access really nice golfing facilities. Examples here are:
Spa- & Resorthotel Georgshöhe - Lower Saxony - Isle Norderney | Northern sea
Lundenbergsand Hotel & Spa - Schleswig-Holstein - destination Wadden sea | Northern sea
Ambassador hotel & spa - Schleswig-Holstein - destination Wadden sea | Northern sea
Hotel Birke - Schleswig-Holstein - destination Kiel Fjord | Baltic sea
Vitalia Seehotel - Schleswig-Holstein - destination Holsteinische Schweiz | Baltic sea
Hotel Neptun - Mecklenburg-Vorpommern - destination Rostock-Warnemünde | Baltic sea
Grand Hotel Binz - Mecklenburg-Vorpommern - destination Isle Rugen | Baltic sea
Our Golf & Wellness-Tips for you
Pleasant sounds
Listening to music makes you happy. This was the result of research at the Canadian McGill University. It does not matter which music you listen to. Just like when you are enjoying good food, the happiness hormone dopamine is activated as long as you love the music you are listening to.
Sleeping Success Formula 4-7-8
A little trick to fall asleep much quicker is to breath in through your nose for four seconds, hold your breath for seven seconds and breath out through your mouth for eight seconds. Repeat that a couple of times and this exercise will help you breath calmly and relax, which ultimately will help you fall asleep.
Your loyal protector against the flu
Echinacea, or more commonly known as coneflower is a herbal plant that strengthens the immune system and fights bacteria as well as viruses. It is especially helpful when you have the flu. You can get it in forms of pills and drops in the pharmacy.
Even more about Golf & Wellness