High-Tech-Beauty Treatments
High Tech Beauty Treatments in the Hotel Spa
High tech beauty is the umbrella term for beauty treatments with technical cosmetic equipment. The combination of modern equipment and high-quality cosmetics creates a synergetic effect that intensifies the effect. It is very important that high tech beauty treatments are only used by professional cosmeticians, because then the best possible results are achieved. 
Each treatment and tool is individually tailored to the guest and the results are many and varied: from positively influencing the skin's regeneration processes and activating the metabolism to refining scars or stretch marks. The word "turbo-beauty" is often used in this context - because you can see the effects directly after the beauty treatment.
A little insight into the world of high tech beauty treatments:
Microdermabrasion
Microdermabrasion is a controlled mechanical peeling that removes the topmost skin cells. A kind of "sandblasting device" shoots fine crystals onto the skin at high speed and then sucks them off again directly by vacuum. The intensity of the treatment can be controlled by the number and size of the crystals and the depth of pressure.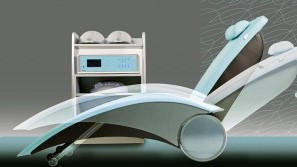 This ensures that the skin absorbs skin care products better after the treatment. Microdermabrasion has a skin tightening, firming and regenerating effect and provides a fresh, rejuvenated complexion.
Ultrasound
Ultrasound creates a vibration on the skin that acts like a deep massage. The intercellular spaces of the skin dilate, resulting in greater permeability. Applications with ultrasound stimulate both blood circulation and cell metabolism. This method also ensures that the skin absorbs cosmetic active ingredients and care products better. Ultrasound has a refreshing effect on the skin and reduces small wrinkles and cellulite. In combination with ointments, ultrasound can help to visually reduce scars and reduce scar pain.
Micro-needling
In micro-needling, the skin is treated with a roller-like device equipped with fine needles, the Derma-Roll. The irritation of the skin by this procedure stimulates the self-healing process and thus the production of collagen, fibres and hyaluronic acid. Skin-care active ingredients are added to the skin either directly during micro-needling or after the treatments, as the skin is then particularly receptive. After a few minutes, small punctures in the uppermost skin layer close up again and are no longer visible one to two days later. Micro-needling activates skin regeneration and visibly reduces skin problems such as scars or stretch marks.
Mesotherapy
When individually formulated injections are injected into the middle (meso) layer of the skin of the area to be treated, this is called mesotherapy. The injections are mixed with either homeopathic or also conventional medicines in low doses and are considered to be particularly gentle. Injected into selected acupuncture points, they slowly release the active ingredients over a longer period of time. Mesotherapy is used in particular as an anti-ageing measure, as it improves the skin structure and smoothes out small wrinkles.
Wilfried Dreckmann combines practical experience in the field of wellness and spa with academic know-how.  Since 2006 he is working internationally as a management consultant, trainer and coach for wellness providers. He is a lecturer at the iST Studieninstitut and associate professor at the iST University of applied sciences in Düsseldorf.
Our Apparative cosmetics-Tips for you
Coffee lets you shine
This trick is ideal for dark or red haired beauties: Pour a cup of black, lukewarm coffee over your hair after the last rinse, massage it in and rinse out with warm water - this makes even brittle tips shine again.
Seaweed Mask
Sun is an undeniable stress factor for our skin, which is exactly will thank you for applying a seaweed mask. To mix one together yourself, take 2 table spoons seaweed powder (can be purchased in any pharmacy) and mix it with 6 table spoons of water. Apply the mask onto your face and neck and let it work its magic for about 10 minutes. Then just rinse it off with water.
Ringingeling, here comes the egg white mask
Protein is the secret weapon against wrinkles. The best: A protein mask is made in no time at all. Beat the egg white so stiffly that a knife cut remains visible, apply and wash off after 20 minutes. The firm baby popo skin on the face is finished.
Even more about Apparative cosmetics