Wellnesshotel Rhineland Palatinate

Wellness in Rhineland-Palatinate offers spa breaks with everything your heart desires. For example, travelers can explore the Rhine Valley with its idyllic wine-growing villages on a boat tour. Westerwald and the Eifel, which impress with their lush green forests, are great for hiking. Wellness vacationers who are interested in history will find the right destination in Koblenz and Trier. Wine connoisseurs get their money's worth on the Moselle, Saar, Nahe and of course the Rhine and can enjoy wines of various grape varieties there. After a day of activities, you will return to a cozy spa hotel and there there will be great spa services.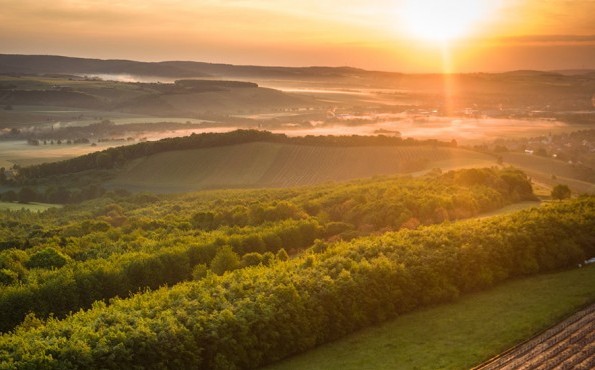 Excursion tips for a wellness holiday in Rhineland-Palatinate
Wellness Rhineland-Palatinate: That means exploring the southwest. Many guests decide to visit the town of Bacharach during a wellness holiday. The romantic little town is situated on the Rhine and is characterised by a medieval townscape. Surrounded by vineyards, the town is considered the ideal place for couples who have just fallen in love. The striking Stahleck Castle, which towers high above the town, also contributes to this. 
The wine villages of Cochem and Bernkastel-Kues on the Moselle also exude romantic charm. Here, wellness holidaymakers taste the delicious wines of the region on the wineries - surrounded by a fantastic panorama.
Active wellness holidays in Rhineland-Palatinate
The Westerwald lake district is a paradise for active holidaymakers and nature lovers. Wellness holidaymakers take part here in extensive hikes or go horseback riding. The lakes are great for swimming or windsurfing. Guests can of course also practise other sports. These include:
canyoning
Golf
Mountain biking
inline skating
Mountaineering or
Nordic Walking


In Rhineland-Palatinate, active holidaymakers will find everything their hearts desire and exactly the right thing for every fitness level, whether beginner or full professional. After a day in the fresh air, you can relax particularly well in the wellness hotel. If you like, you can relax and pamper your muscles with a massage.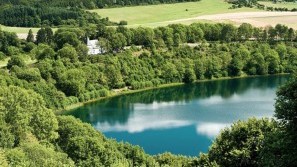 Wellness holidays Rhineland-Palatinate: explore the Eifel
The federal state of Rhineland-Palatinate includes the southern part of the Eifel. Extinct volcanoes and crater lakes characterise the landscape of the region. Visitors can explore the Eifel on foot, even with children. Child-friendly hiking trails, where there is a lot to discover, will delight young and old alike. The hiking trail to Eltz Castle, for example, is well worth experiencing. On the way there, magnificent views over green hills and dense forests all the way to Eltz Castle will amaze walkers. A fantastically beautiful hiking trail.
Experience history in Rhineland-Palatinate
If you are looking for a cultural programme during your wellness holiday in Rhineland-Palatinate, you will also find it in many regions. The towns of Monschau and Bad Münstereifel with their medieval town centres and half-timbered houses are well worth seeing. Wellness holidaymakers who would like to experience something very special will pay a visit to the "Monschauer Glashütte". Here guests can experience the ancient craft of glassblowing. They are there when a beautiful glass figure is created from a glowing mass consisting only of sand, potash and lime: a very special experience that guests will remember for a long time.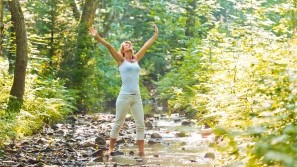 Discover Trier on a wellness holiday in Rhineland-Palatinate
Trier is one of the oldest cities in Germany and impresses visitors with its palpably historical past. Places of interest are here:
the Porta Nigra
the Constantine Basilica
the imperial baths
the cathedral
the Liebfrauenkirche
the Barbara Baths  

Holidaymakers who want to combine their wellness stay with culture are in good hands in Trier.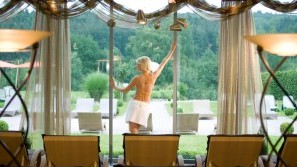 Where is the best place to spend a wellness holiday in Rhineland-Palatinate?
Rhineland-Palatinate is home to many great wellness hotels. Whether in the Westerwald, on the Moselle, in the Eifel or in the Naheland: there are great wellness offers in all regions. In order to find the best wellness hotel in Rhineland-Palatinate for your own holiday, it is important to be clear what you want from your time out. Should certain wellness treatments be booked? How important is the nature around the hotel? Or, for example, should certain cities be nearby? Who knows what he expects from wellness in Rhineland-Palatinate will find the easiest way to find the ideal wellness hotel for him.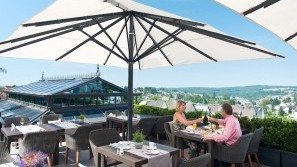 Wellness in Rhineland-Palatinate: Hotel Heinz
The Hotel Heinz awaits its guests in Höhr-Grenzhausen in the Westerwald. Holidaymakers stay in modern and friendly designed rooms. They can relax in the thermal baths with bathing area and many attractive wellness offers. Massages, Kneipp, beauty and cosmetic treatments ensure pure relaxation. Wellness guests experience the Westerwald hospitality in the various gastronomic facilities such as the Rudolf's.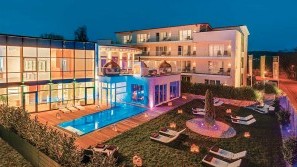 Wellness in Rhineland-Palatinate: Wellness Hotel zum Kurfuerst
The Wellnesshotel zum Kurfuerst is located in the spa gardens of Bernkastel-Kues on the Moselle. Traditional Chinese medicine (TCM) is just as much a part of the offer here as Feng Shui and Qi Gong. Wellness holidaymakers can even take part in a cooking course where they are introduced to Chinese 5-element cuisine. Afterwards they can relax in the spa area - for example in one of the numerous saunas or in the steam bath.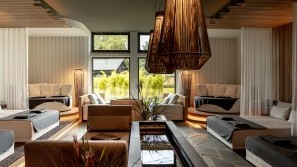 Wellness Rhineland-Palatinate: Michels Wohlfuehlhotel
In the middle of the volcanic Eifel, wellness guests will find Michel's Wohlfuelhotel. Located between Trier and Bonn, the hotel impresses its guests with a great combination of wellness, culinary delights and nature. A spa area and extensive wellness offers make the hearts of wellness fans beat faster. How about an offer called "Eifel-Vital-Detoxing", for example? Here wellness holidaymakers enjoy a fascial massage, a detox facial treatment and a yoga lesson.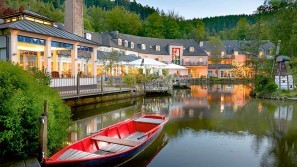 Wellness Rhineland-Palatinate: Molitors Muehle (Mill)
The Hotel Molitors Muehle is embedded in the nature of the southern volcanic Eifel. The idyllic, secluded location directly on the lake promises rest and relaxation on hikes, bike tours, Nordic walking or fishing. Pile sauna, hamam and natural pond round off the wellness holiday. For those who like romance, there is a fishing cottage right by the water lily pond with a wood-burning stove, a large terrace and its own sunbathing lawn.
Culinary delights include specialities from the Eifel and selected wines from our own vineyard on the Moselle.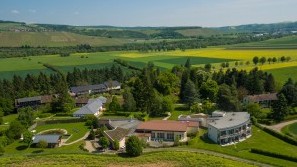 Wellness Rhineland-Palatinate: Menschels Vital Resort
In the middle of a green park lies the Menschels Vital Resort. Built in English country house style, the house focuses on medical wellness. Guests here take advantage of clay treatments according to Pastor Felke, which are said to have a healing and therapeutic effect.
How about a clay bath, for example? A bath in the fresh healing earth is a very special experience for wellness guests. Wellness in Rhineland-Palatinate can therefore also mean putting one's own health first and making a conscious decision for health-promoting measures.
Wellness Rhineland-Palatinate: Moselle Romantic Hotel Kessler-Meyer
Only a stone's throw away from the Moselle town of Cochem, guests will find the Moselle Romantic Hotel Kessler-Meyer. Spread over four buildings, connected by a beautiful garden, the hotel invites you to stay and relax. The theme of wine plays an important role in the wellness hotel. For example, guests can book an offer called "Vino Wellnesstage". The package includes a 5-course menu, a vino body peeling, a vino butter pack and a vino aroma grape seed oil full body massage. Wellness guests experience wine with all their senses. 
Invigorating, good wellness moments
The state of Rhineland-Palatinate enchants visitors with green meadows, vineyards and dense forests. Wellness stays in the region are wonderfully varied and can be combined with excursions into nature or historical towns. Far away from the hustle and bustle of the city, wellness guests experience hospitality and first-class wellness offers here. Wellness in Rhineland-Palatinate: That means arriving, coming down and enjoying. No matter whether the focus is on your own health or simply feeling good - there is something for everyone here.