Valentine

Our selection of offers on the topic
0 Hits to your selection
Wellness for Valentine's Day
Wellness for Valentine's Day is a beautiful gift for almost everyone. This is the good news for all those who ask themselves every year shortly before February 14 in a light panic: What to give for Valentine's Day?
So if you want to give your sweetheart a special surprise on Valentine's Day, here are a few tips on how to do everything right with Wellness as a gift. There are ideas for every budget and suggestions so that even the most spontaneous do not have to go empty-handed.
Wellness for Valentine's Day
Relaxation, time for two and just having a good time: These are just some of the reasons why wellness is so popular with many people today. In hectic everyday life there is often far too little opportunity to really switch off. In addition, quite a few couples see each other only between doors during the week. They clearly don´t have enough quality time with their partner. Wellness stands for a balance of all these deficiencies. That is why it is such a good idea to give Wellness as a Valentine's Day gift.
Moreover, experiences make people happier in the long run than objects - scientists like Dr. Thomas Gilovich are sure of that. In contrast to flowers, a piece of jewellery or other material gifts, the time spent together on a wellness holiday or in the spa remains in the memory for a long time and evokes positive feelings even later.
But what's the best way to give away wellness on Valentine's Day? There are various ways of doing this, which are presented below.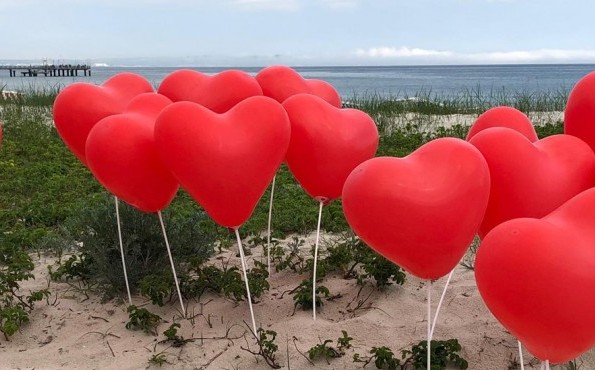 Valentine's Day at the Wellness Hotel
Spend Valentine's Day at a wellness hotel: If you are planning something very special for February 14th, surprise your loved one with a wellness holiday. This way you not only make sure you get a great gift, but also experience something extraordinary with your partner directly on Valentine's Day.
Sleep in and have a leisurely breakfast, perhaps explore the surroundings a little or get some exercise and then relax in the spa and round off the day with a candlelight dinner. A day at the wellness hotel is perfect for a perfect Valentine's Day.
Many wellness hotels also have special offers for couples. Package offers on the theme "time for us" include, for example, couple treatments, time in the private spa or sparkling wine, fruit and chocolates in the room. Depending on your interests and region, everyone will find a suitable offer and wellness hotel for Valentine's Day.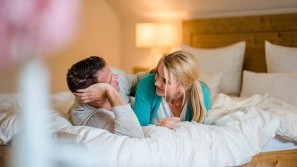 Some hotels have even put together special Valentine's Day wellness packages around February 14. These include, for example, a champagne breakfast in bed, guests are surprised with a "rose magic" in their room on arrival or a romantic Valentine's menu by candlelight.
By the way, who has not yet asked the question of all questions: Valentine's Day is of course also perfect for a marriage proposal in a wellness hotel. And if you're planning a few extra surprises, just talk to your hotel reservation staff in good time before you arrive. Special requests such as roses in the room, a bottle of champagne or an individually set table for dinner can be arranged without any problems.
Wellness for Valentine's Day: Spa treatments for lovers
Whether a day at the spa or a holiday in a wellness hotel: the icing on the cake are of course spa treatments. If you are slightly overwhelmed by the spa menu, you will find some spa treatments for lovers and other bookable extras that make wellness on Valentine's Day particularly beautiful and romantic.
The Imperial Bath: Relaxing together in the bathtub is particularly enjoyable. Other feel-good baths can also be taken by two in the wellness hotel. Often these are provided with special bath additives, sometimes you can also bathe together in special places such as a wooden tub.
Hamam ritual for two: Here the partners are together in the hamam and receive, for example, a peeling, a soap lather massage and water showers. Afterwards they relax together with a tea and let the spa treatment take effect.
 Rituals in which the partners apply peelings and packs to each other in private.
All kinds of couple treatments, also called double treatment: In these treatments, the two partners are usually treated simultaneously and in the same room. For example, the massage tables are placed next to each other while each partner receives a massage from one of the therapists. Double Treatments are available for various spa treatments and rituals.
Book private spa: In separate rooms, you can enjoy being together with your partner and often book treatments for couples. Usually there are spa facilities for private use such as a sauna, steam bath or whirlpool.
Wellness for Valentine's Day as a last-minute gift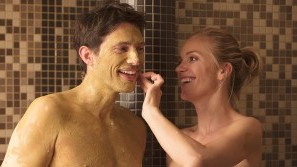 Suddenly it's Valentine's Day and you forgot to get a present? If you need a last-minute gift, Wellness for Valentine's Day is the right choice. Because if time is too short to plan a holiday in a wellness hotel, you can always get a wellness voucher.
Wellness voucher for Valentine's Day
Especially nice is a wellness voucher from the Wellness Hotels & Resorts in a gift box with many extras, which further enhance the anticipation of the wellness time-out. But of course it takes a few days to send the voucher by post.
Those who are even later need not despair. Even at the last minute, a Valentine's Day wellness voucher can be ordered, provided with a personal love message and printed out directly.
Whether a wellness holiday, a spa treatment or a romantic dinner: The value of the wellness voucher (from 50 euros) can be determined individually and redeemed for all services at the wellness hotel.
For those who like it even more personal, a small home-spa programme is organised on Valentine's Day for the loved one or the person they love. After all, what could be better than handing over the wellness voucher after a massage you have given yourself, together with the ingredients for a "do it yourself" face mask or a healthy fruit smoothie?
Our Valentine-Tips for you
One line a day
Today was not your best day? Surely, there was something good about it. Whether it is the sunset or a stranger's smile. If we write down three good things or feelings each day, we will fall asleep with a smile. So why not start a 'One line a day'-book?
Beauty from the inside
Most people know body oils that are applied onto the skin and are supposed to have a tightening effect. But did you know that oil also works from the inside? Oils such as sunflower and safflower oil that contain a lot of linoleic acid as well as the cell protecting vitamin E ensure a firm and tight skin.
Greens before kissing
No chewing gum at hand? Just chew on some parsley or watercress and it will eliminate bad breath and freshen it instead.
Even more about Valentine