Wellnesshotel Brandenburg
Wellnesshotel Brandenburg
Wellness in Brandenburg: A time-out in unspoilt nature. Brandenburg invites you to escape the noise and hectic of the big city. In a beautiful wellness hotel you can perfectly treat yourself to a real time-out. The varied wellness offers in Brandenburg contribute to this. The arrangements range from relaxing aromatic oil massages to yoga and Ayurveda. Furthermore, holidaymakers enjoy the boundless expanse of nature in the region.
Discover Brandenburg on a wellness holiday
Brandenburg scores above all with its unspoilt nature. The many rivers and lakes make the region particularly attractive for wellness holidays. They invite you to engage in all kinds of water sports: floating on a raft, setting sail in a canoe and simply letting your eyes wander over the water - this can be pure wellness for body and soul. 
Those who prefer to have solid ground under their feet can explore Brandenburg during their wellness holiday on foot or by bike. Hikes and bicycle tours around the lakes as well as through meadows and forests always provide impressive views of nature. 
Wellness Brandenburg: Activities on and in the water
The Lusatian Lakeland in Brandenburg in particular is a paradise for all keen water sports enthusiasts. The flooding of former open-cast mines here between Berlin and Dresden has created Europe's largest man-made water landscape.
The Lusatian Lakeland is characterised by more than twenty artificial lakes, some of which are connected by canals. A true Eldorado for wellness holidaymakers who love water sports. Holidaymakers can here:
Sailing 
Motorboat driving
Surfing or also
Diving


Many lakes, such as Senftenberg Lake, invite you to take a swim. There are shallow, clean sandy beaches here, where families with children also feel at home. 
With a little luck and a little patience, anglers can pull zander, pike or perch out of the water here. If fishing is not successful after all, guests can go to a cosy restaurant in the wellness hotel in the evening and enjoy freshly prepared fish dishes. 
What can you do during your wellness holiday in Brandenburg?
Guests who want to spend their wellness holidays actively can do so not only in the water but also on land. Whether on foot or by bike, the small villages in Brandenburg with their "Aunt Emma shops" invite you to stroll and linger. In the evening, the spa department of the wellness hotel will tempt you with relaxing massages, where wellness guests can review the day and plan their next activities.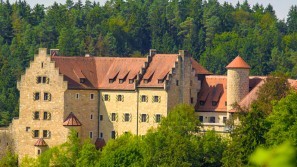 If you would like to combine wellness in Brandenburg with a short city trip, visit Potsdam, Cottbus or Brandenburg an der Havel. Potsdam in particular is very popular with visitors, as it is not only home to the famous Sanssouci Palace, but also to other palaces, gardens and historical sights that cause amazement. 
Wellness in Brandenburg: The Spreewald
The UNESCO-protected biosphere reserve is one of the most beautiful regions in Brandenburg and attracts numerous wellness holidaymakers every year. Many visitors spontaneously associate the Spreewald above all with delicious gherkins and relaxing boat rides. But the region can also be wonderfully explored by bike. How about a bike tour on the "Gurken-Radweg" (gherkin cycle path), for example? The cycle path along various streams leads past black alders, women in Sorbian costumes and ferrymen. Surrounded by picturesque nature, holidaymakers spend an unforgettable excursion here, which gives insights into the diversity of the Spreewald.
Wellness in Brandenburg: Flaeming
The Flaeming region south of Berlin owes its name to the Belgians who once settled the region. The landscape is characterised by forests, fields, churches and old castles. Flaeming is best explored on foot. The international art trail in Flaeming proves that hiking in the lowlands can also be exciting. Hikers explore the Hoher Flaeming Nature Park here. Along the 37-kilometre-long hiking trail, 28 works of art are on display, which provide a great contrast to the landscape. Whether hikers decide to explore the whole route or just part of it, for example from Bad Belzig via Hagelberg, Flaeming has a lot to offer its visitors and impresses with a unique combination of landscape and art. After an active day in the fresh air, guests can end the day in the wellness hotel with a tasty meal and perhaps a glass of wine.
Culture and a touch of Hollywood in Brandenburg
Not only Brandenburg's nature attracts many wellness guests, but also the diverse cultural offers. Museums, castles, palaces and monasteries are waiting to be discovered. Wellness for culture lovers! 
In Babelsberg, the oldest film studio in the world, visitors get a taste of Hollywood atmosphere. In the 20s and 30s of the last century, film classics such as "Metropolis" or "The Blue Angel" were made here. Also big Hollywood productions of the 21st century like "Inglourious Basterds" or "Grand Budapest Hotel" were shot here. Wellness in Brandenburg combined with a touch of Hollywood glamour is therefore possible here.
A piece of memory for your home: Culinary souvenirs from Brandenburg
A special feature of Brandenburg are the numerous farm shops. Here you can buy regional products such as home-grown wine, crunchy fruit or spicy cheese. This way, guests can take a piece of wellness holiday home with them and reminisce while they eat the delicious souvenirs. It's best to feast with family or friends, because then it tastes even better.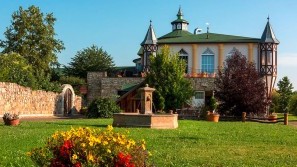 Wellness in Brandenburg: Wellnesshotel Seeschloesschen
Situated at the Senftenberg Lake in Lower Lusatia, the wellness hotel Seeschloesschen is an ideal retreat for all those seeking relaxation. Surrounded by green nature, the hotel invites its wellness guests to take a break from the often stressful everyday life. Ayurveda plays a special role here. Ayurveda is a traditional Indian healing art and means "the teaching of life". The life science focuses on bringing body, mind and soul into harmony. Methods used for this are:
Ayurveda massage and cleansing techniques
Yoga
Dietetics
Pharmaceuticals

In the Wellnesshotel Seeschloesschen guests can take advantage of a wide range of Ayurveda treatments, from individual Ayurveda treatments to complete Ayurveda cures. Those who would like to get a little insight into Indian life science can also simply try out Ayurvedic dishes or take part in a yoga and meditation session.
The hotel also offers a great wellness area with a Turkish steam bath, a bio sauna, an indoor pool and a fireplace. Another highlight of the hotel is the wellness garden, which impresses with a pond landscape, an outdoor pool with shower grotto, an earth sauna and a hot whirlpool. 
Guests who spend a short holiday here recharge their batteries for everyday life and learn to consciously listen to the needs of their body. 
Wellness in Brandenburg: Let your soul dangle
A short holiday in Brandenburg offers the ideal opportunity to relax. The idyllic landscape invites you to relax and enjoy. No matter what time of year it is - holidaymakers who do wellness in Brandenburg are thrilled by the diversity and hospitality of the region.